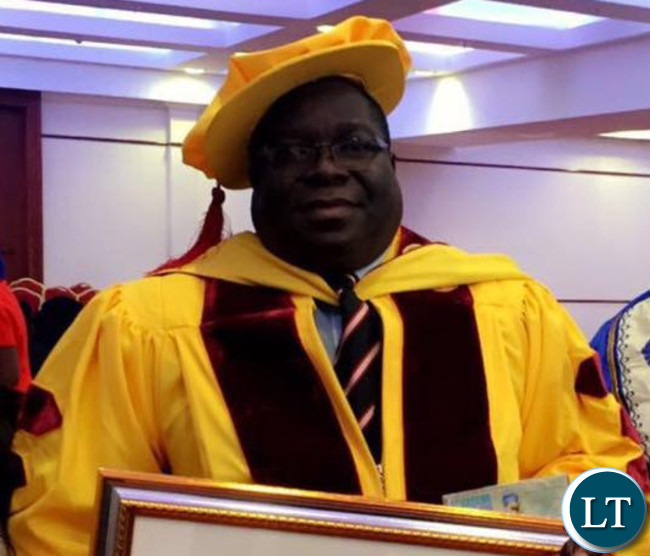 Information and Broadcasting Minister Dr Chishimba Kambwili says his recent achievement of being bestowed with a doctorate degree is a result of hard work.
Dr Chishimba who is also Member of Parliament for Roan constituency in Luanshya has since dedicated his award to the people of Roan constituency.
He said it the people of Roan that he was given the rare opportunity to serve them as Member of Parliament.
"Born and raised in Luanshya. I walked 24km per day to go to school, born in a family of 13 our lives were far from luxurious, I had to labour for school when I could have gotten a job in the mines like everyone else, I believed school was the pathway to success," Dr Kambwili said.
He added, "I turned our servant's quarters into a classroom and tutored my peers in various subjects as a way of earning money and Sharing my knowledge. Against all odds I finished my grade 12 with flying colours."
Dr Kambwili said Roan constituency gave him the chance to show his hard work adding that he has promised the people that that he would be a different candidate particularly one that is open and readily available.
"I aim to continue in this vein because that is my nature, I want to work hard and achieve. In this light I would like to announce that we have found resources to rehabilitate a further 12km of road in the constituency," he said.
Dr Kambwili said the contractor will work on the Roan-Mpatamatu Road and touch up the road that leads to town.
"For Roan residents this is good news as I have delivered what I had promised."
Dr Kambwili was bestowed with the doctorate degree along with six other Zambians during the California University FCE'S awarding ceremony at Pamodzi Hotel in Lusaka on Sunday.
California University Council Member Truly Bush presented the award to Dr. Kambwili.
Professor Bush said the award is based on the contribution Dr. Kambwili has made to communities in his personal capacity and as a politician.
The University has recognized that Dr. Kambwili has managed to pay for individuals from Grade 8 up to University adding that he managed to complete the 90 Days Legacy Swimming Pool as planned and ensured that Zambia won the Africa Cup of Nations when he was Sports Minister.
This was during the 2016 impact Makers Achievers Doctoral Convocation under the theme" Cerebrating our Heroes who have impacted lives and carry their vision to the next generation".
Others who have been awarded honorary doctorates are Rozious Siatwambo, Jobicks Kalumba, Emmanuel Sampa, Albert Nsonga, Nolobe Kuliye and George Sazambile.
[Read 121 times, 1 reads today]