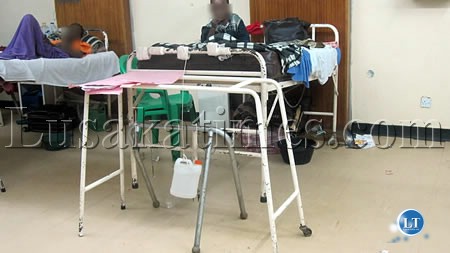 The Government of Western Australia has donated medical equipment worth millions of United States dollars (US$) to the University Teaching Hospital (UTH) paediatrics wing in Lusaka.
The donation follows the decommissioning of a children's hospital at Princess Margaret Paediatrics Hospital in Perth in Australia.
Premier of Western Australia Colin Barnet disclosed that the equipment donated to the University Teaching Hospital (UTH) was in good condition.
Mr. Barnet stated that the donation was a symbol of the cordial bilateral relations that exist between Zambia and Australia.
This is according to a press statement issued to ZANIS by First Secretary for Political and Administration at the Zambian High Commission in Australia Alick Banda today.
Mr. Barnet observed that medical doctors in Zambia lack good medical equipment to enable them discharge their work professionally.
He has since expressed confidence that the medical personnel at UTH will put the equipment to good use and help save many children.
The Premier further disclosed that the equipment will be dispatched from Australia to Zambia in early December this year.
Mr. Barnet recalled that in 2014, he promised to assist the Zambian government in acquiring medical equipment from Australia.
In receiving the donation, Zambia's High Commissioner to Australia, George Zulu thanked Western Australia for donating assorted medical equipment to Zambia.
Mr. Zulu said the decision by the Australian government to donate the equipment to Zambia demonstrates the excellent bilateral relations that exist between the two countries.
He noted that the equipment will greatly help the needy children at the health institution.
Mr. Zulu explained that trained medical personnel opt to work in other countries because of luck of medical equipment in Zambian health institutions.
Meanwhile, Mr. Zulu has requested the Government of Western Australia to invite medical personnel from UTH so that they are trained on how to use the equipment.
The High Commissioner also stated that Zambia would like to learn on how Australia managed to conquer HIV/AIDS.
The equipment donated was used in providing quality health care services to children in Australia.
[Read 95 times, 1 reads today]