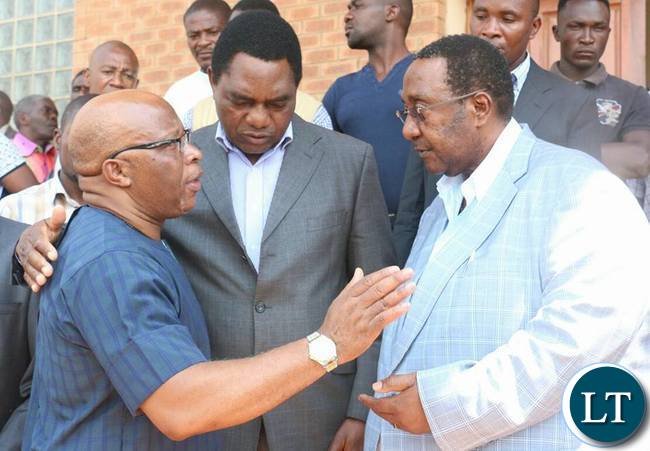 ZNBC Editors yesterday testified against MMD leader Dr Nevers Mumba in a case he has been charged with criminal trespass and giving false information to a public officer.
During cross examination by state and defence lawyers, ZNBC Assistant News Manager Cosmas Chileshe told the court that he received a call from officers that Dr Mumba had visited the stations expressing his displeasure over a story which was aired concerning the presidential hearing.
He further said the newsroom staff informed him that Dr Mumba made running offensive remarks.
Mr Chileshe told the court that much as ZNBC is a public place, entry is restricted to safeguard security of the premises and the nation at large.
And ZNBC Sub-Editor Barbara Malilwe said she felt intimidated and shaken when Dr Mumba walked in the newsroom to inquire about an item which was carried out on the news and later asked her to speak out as she was the citizen of the country.
Mrs. Malilwe said the statement was intimidating as it was coming from an opposition leader and a Former Vice president.
And another Sub-Editor Arnold tutu also told the court how he felt belittled by Dr Mumba's statement calling on him and others editor to speak out.
Mr Tutu said when walking out Dr Mumba threatened that he will make sure there was no inauguration on Tuesday and that he and other Editors were misleading the nation.
On 8th September 2016 in Lusaka, whilst and jointly acting together with other person unknown, Dr Mumba is said to have unlawfully enter into ZNBC newsroom with intent to intimidate and annoy the staff.
Meanwhile, UPND leader Hakainde Hichilema and his Vice President for Administration GBM were present in court to give solidarity to Dr Mumba.
The matter has since been adjourned to tomorrow for continued hearing.
And UPND leader Hakainde Hichilema who led his Vice President Geoffrey Mwamba to offer solidarity to Dr Mumba said they shall continue embracing the media as they have done in the past.
"We understand the numerous challenges that our Journalists go through in our country in terms of media freedoms and rights," Mr Hichilema said.