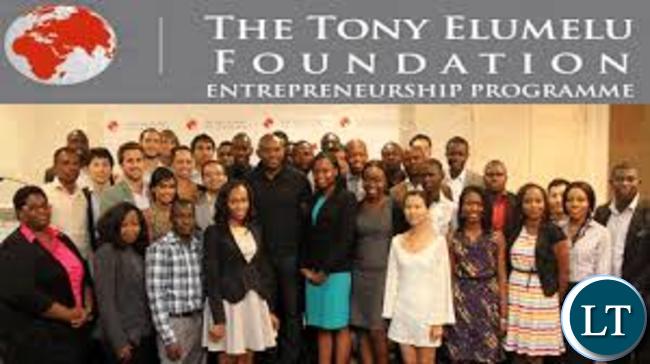 21 Zambians are among the 1,000 African Entrepreneurs selected for the 2017 Tony Elumelu Foundation (TEF) Entrepreneurship Programme.
The successful entrepreneurs were picked out of 93,000 applicants across 55 African countries and they now join 2,000 alumni from the 2015 and 2016 rounds.
The Tony Elumelu Foundation (TEF), an African founded and funded 21st century philanthropic organization committed to entrepreneurship development, ushers in 1,000 African entrepreneurs, to form the 2017 class of $100m Entrepreneurship Programme.
 
Agriculture led the pack with nearly 1 in 3 successful applicants active in this sector, proving that African youth are indeed interested in feeding the continent.
The next most popular sector was ICT at 11% and then manufacturing standing at 9% of applications, evidence of a paradigm shift away from extractives to a more sustainable mindset that embraces industrialization and diversification.
Nigeria, is home to 50% of the 2017 cohort, with regional powerhouses Kenya, Ghana, Uganda and Cameroon following respectively.
Zambia has seen 21 entrepreneurs selected in 2017, the biggest number since the programme was launched.
One of the successful applicants from Zambia Alinuswe Mwamulima is involved in fish farming, feed reproduction and hatchery.
Alinuswe runs an efficient Intensive Tilapia Aquaculture Farm, by setting up a feed production line and a Hatchery for fish fingerlings to primarily stock floating fish cages that will be placed in a freshwater body, and in ponds, with excess fingerlings and fish feed sold.
Other Zambians selected are Alfonso Chama (Commercial/Retail), Andrew Jassper Banda (Agriculture (Agribusiness, Farming), Blessing Siliuka Gondwe (Energy/Power Generation), Brian Mooto Mwangelwa (Agriculture (Agribusiness, Farming), Cephas Simwanza (Oil & Gas), Francis Mbewe (Education and Training), Israel Chisanga (Agriculture (Agri-business, Farming), Japhet Sakala (Agriculture (Agri-business, Farming) and Jessen Jay Siamutwa (ICT).
Others are Kamota Mayondi (ICT), Liswaniso Yves Mukela (Energy/Power Generation), Moonga Chowe (Financial Services), Musonda Kabamba (Education and Training), Robby Mulemba Sunga (Manufacturing) Roy Jere (Energy/Power Generation), Ryan Mwewa Kasakula (Agriculture (Agribusiness, Farming), Stephen Musonda Kambone (Agriculture (Agribusiness, Farming), Taziona Mumba (Media and Entertainment) and Tresford Himanansa (Financial Services) and Tundwa Siyubo (ICT).
The successful entrepreneurs will benefit from the TEF Entrepreneurship Programme's 7 Pillars, a toolkit of support including business training, active mentoring, access to networks and funding of up to $10,000 as they develop their business concepts to support the transformation of the continent.
Founder Tony Elumelu wants to do more. "Standing here today to announce the successful applicants is bittersweet. There are 92,000 aspiring entrepreneurs who have been unsuccessful. These young African men and women have demonstrated passion, innovation and creativity in their applications and we should not relent until we help them all realize their aspirations. I call on other well-endowed Africans and friends of Africa, to support us to do more."
Speaking on the Foundation's impact in three short years, CEO, Parminder Vir OBE, revealed: "We recently sampled 600 of our existing 2,000 entrepreneurs to understand the extent of our Programme's impact. We discovered that they have turned our investment into real returns with 1,297 jobs created so far."
The Programme culminates in the annual TEF Entrepreneurship Forum, the largest gathering of African entrepreneurs in the world, where they will forge pan-African collaborations with each other, and meet investors, venture capitalists and other members of the entrepreneurship ecosystem.