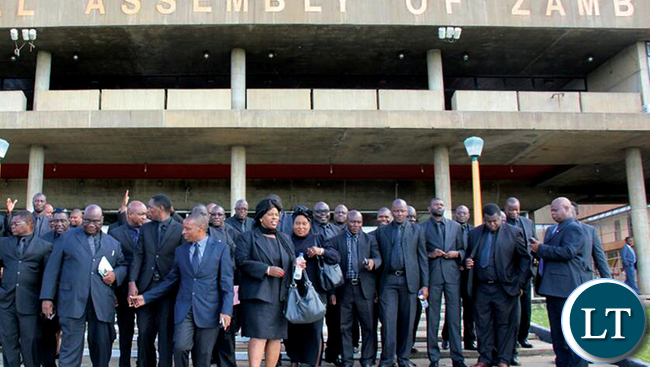 THE suspended 46 United Party for National Development (UPND) parliamentarians have taken their application to the Court of Appeal challenging Speaker of the National Assembly Patrick Matibini's decision to suspend them for 30 days.
This follows Lusaka High Court judge Petronella Ngulube's recent decision to dismiss their application to declare their suspension by the Speaker null and void.
During the suspension period which ended yesterday, the opposition legislators were not paid salaries and allowances following their walking out of the House when President Lungu was delivering a state of the nation address on March 17 this year.
In their application, Nalikwanda member of Parliament (MP) Geoffrey Lungwangwa, suing on his own behalf and that of 45 MPs, is seeking a declaration that Dr Matibini's decision to suspend them was illegal as he is not reposed with powers to do so.
Professor Lungwangwa has also argued that the Speaker did not follow the legal procedure when effecting the MPs' suspension.
"It is contended that the decision of the Speaker to suspend the UPND MPs for 30 days is illegal as they were suspended for an offence of contempt which they were not initially charged with. The initial charge or warning the applicants faced was that of absenteeism from the House on 17th March, 2017.
"The applicants were never charged with the offence of contempt of the assembly. It is contended that absenteeism from the House is not the same as contempt of the assembly.''
Their application in the Court of Appeal follows the decision by Ms Justice Ngulube to dismiss their application on grounds that there was no case fit for further investigation.
Ms Justice Ngulube dismissed all the grounds stemming from illegality, procedural impropriety, unreasonableness and irrationality.
"I wish to state that I am not satisfied that the applicants have any arguable case fit for further investigation. I am not persuaded to exercise my discretion in favour of the applicants," she said.
On June 13 this year, Dr Matibini suspended the 46 MPs for 30 days for boycotting President Lungu's state of the nation address.