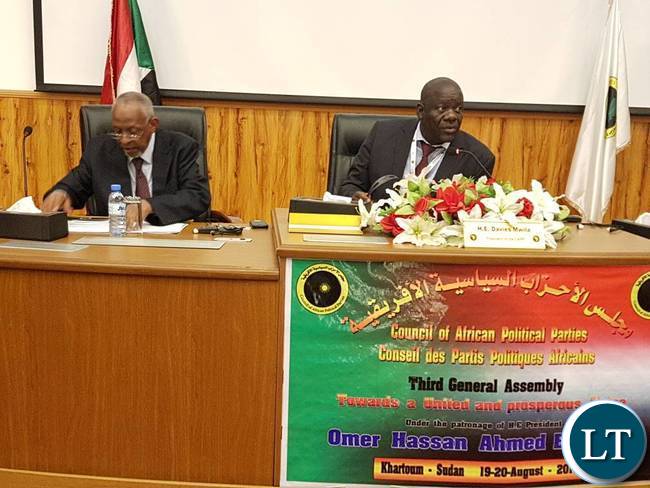 Patriotic Front (PF) Secretary General Davies Mwila has handed over the leadership of the Council of African Political Parties (CAPP) after a successful four year tenure of office.
The PF have handed over the Presidency of CAPP based on the organization's principle of rotational leadership to the continental body since its inception in 2013 to date.
Mr. Chanda said the PF Secretary General and former president of CAPP called for more collaboration and unity of purpose.
"As I hand over the baton to Nigeria, I want to emphasize the need to strengthen our cooperation with the African Union and Pan African Parliament in advancing our agenda for a poverty-free Africa, a continent free from the burden of hunger, disease and illiteracy, an agenda for a continent free from evils such as racism, ethnicity and xenophobia and free from exploitation by imperialist forces", said Mr. Mwila.
He said CAPP must position itself as an energetic force in Africa's quest to chart and determine her own destiny as no one can deny that Political parties have an important role to play in constructing Africa's desired future.
The PF Secretary General further called on CAPP to explore new partnerships.
"Let CAPP find her voice and space in the Brazil, Russia, India, China and South Africa (BRICS) dialogue and ensure Africa, as the world's next major emerging market is considered a partner in developing our economies. If we are to secure Africa's future, overcome poverty, construct and determine our own destiny, then Africa must unite!" he observed.
The PF Secretary General also called for what he termed Africanization of Democracy if democracy is to deliver development for African States.
"We can all agree that democracy is not a uniform concept where "one size fits all". Democracy, in order for it to work, must be a hybrid of people's power, our value systems and unique backgrounds. Unless democracy takes this into account, it will fail to bring development to African countries and the continent at large.
Mr. Mwila cautioned CAPP against the temptation of discrimination anyone on account of colour.
"We are Africans, all of us. What makes you an African is not the colour of your skin or shape of your nose – what makes you an African is that common value system we share which never dies", said Mr. Mwila.
The General Assembly thanked the Patriotic Front and Zambia for having provided leadership to the continental body since its inception in 2013 to date.
The General Assembly saw the election of PF Member of the Central Committee Paul Moonga to the Regional Executive Committee of CAPP.
This is according to a press statement made available to ZANIS by PF Director for Media Sunday Chanda in Lusaka today.