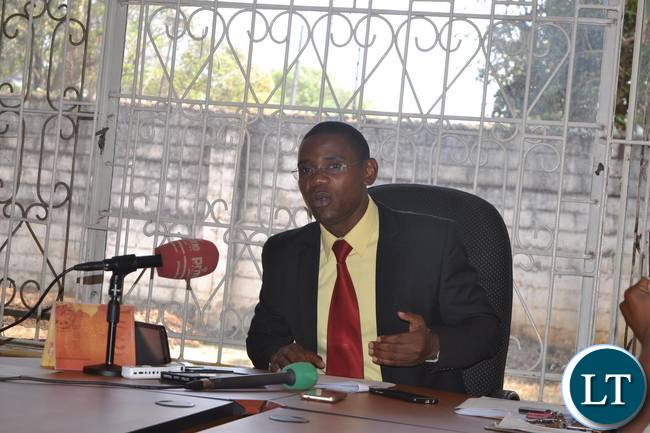 CHILUFYA Tayali has accused the Patriotic Front (PF) government of shielding Chishimba Kambwili from arrest because they fear he could spill the "beans"` against the system.
Mr Tayali said it is painful to see Mr Kambwili going scot-free despite alleged fraudulent activities involving the Roan Member of Parliament being availed to police.
Speaking at a media briefing in Lusaka yesterday, the Economic and Equity Party (EEP) leader complained that despite police warning and cautioning Mr. Kambwili over fraud allegations a few months ago, nothing had been done.
This was after Mr. Tayali filed a complaint of alleged fraudulent activities against Mr. Kambwili in November last year.
"Government should stop shielding Mr Chishimba Kambwili from prosecution for his fraudulent activities.
"Despite having reported and availed evidence to the police over Mr Kambwili's fraudulent activities almost two months ago, nothing has been done," complained Mr Tayali.
The EEP leader also said he was let down by the investigative wings for allegedly failing to arrest Mr Kambwili when the evidence was availed to them two months ago.
He said that he was more than ready to testify in court that Mr Kambwili committed a crime.
"I have provided evidence before the police but it's unfortunate that I'm just being let down by the investigative wings and the security wings.
"It is the same issue that I am facing with Mr Chishimba Kambwili, I have reported him to the police and I have given evidence because I just don't talk. I am very convinced that Mr Kambwili committed criminality, it is out of the evidence that I have that I have taken this matter to the police but look what is happening. I reported him and gave evidence some months ago but up to now he is still roaming the street without being arrested," he stated.
" Why is the PF protecting Kambwili and I must tell you that I started complaining against Mr Kambwili together with other ministers way before he was fired but he was being protected by PF but I am surprised that even after being fired, the PF has continued protecting him.
"What is it that Kambwili knows that the PF are scared of that if they touch him it might spill over? Why are they not arresting Mr. Kambwili because I am complaining in the interest of justice because many times when you report a poor person in the morning at 08:00 hours, by 08:30 hours that person will be inside the cells?'' he asked.
Meanwhile, speaking at the same event Mr Tayali has commended government for circumspective response to combat cholera. "We note, especially, the Presidential intervention which has drawn concerted efforts from various ministries, preeminently, the Ministry of Health and Local Government.
[Read 14 times, 1 reads today]