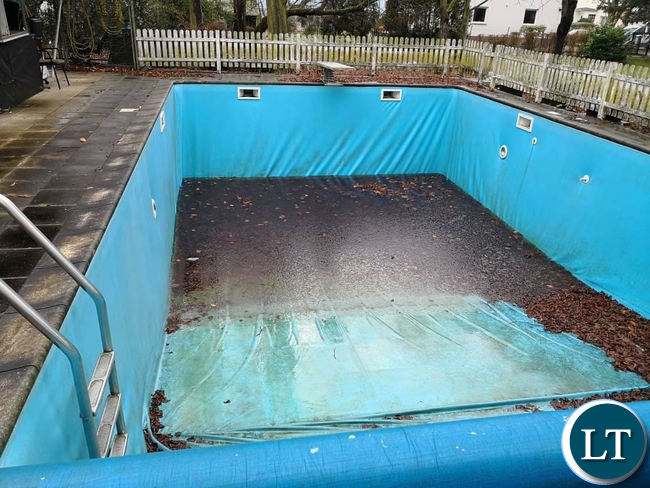 The Zambian Embassy in Berlin has stepped up efforts to get its 'house in order' following concerns of dilapidation that have emanated from the latest Auditor General's report, which paint a bleak image of the Zambian residence in Europe's largest economy, Ambassador Anthony Mukwita has said.
The Auditor General's report showed embarrassing distasteful images of the 'crumbling' Zambian edifice built in the early 1930's and has received little or no touch since it was acquired by the Zambian government when the mission moved from Bonn to its current Berlin station after the fall of the Berlin Wall and unification of Germany.
This is according to a statement released by First Secretary Press Kellys Kaunda at the embassy of Zambia in Berlin tabulating the 'sad state of the dilapidation of Zambian residence and a defunct building initially meant to be a chancery or embassy.'
Ambassador Mukwita who moved to Berlin from Stockholm, however, has expressed confidence that the 'problematic' issue of both the dilapidated uninhabitable house and chancery shall be resolved.
"I feel confident that these two issues that have constantly raised concern from the AG and local building authorities will be resolved soon because our bosses the Permanent Secretary, the Minister of both Foreign Affairs and Finance have taken keen interest in correcting the situation and opening a new page around the house and chancery in order to plug the unnecessary financial resource drain," said Ambassador Mukwita.
An inspection in January 2017 by the Permanent Secretary and Minister of Finance found a situation where water pipes have been leaking, roofs and floors cracking at the old residence while huge amounts of money were being spent on a building meant for the chancery that is not occupied because it is officially uninhabitable.
This compelled the Ministry of Foreign Affairs in September 2017 to direct the Zambian embassy in Berlin to engage experts to immediately identify new property for purchase as a chancery and residence after selling the old stock in Pankow.
"Local building authorities and experts here in Germany have certified the house unfit for habitation due to its grave state of disrepair that present a potential hazard and have recommended a total demolition in case of the house and the chancery," said ambassador Mukwita.
These concerns have been duly forwarded to the Ministry of Foreign Affairs and Finance for action.
Consequently, in September 2017, the Ministry of Foreign Affairs advised the embassy of Zambia in Berlin to 'quickly' engage experts to sell the dilapidated old property and replace them with presentable habitable property in a transparent manner and above board.
Ambassador Mukwita expressed gratitude at the 'special interest' the Foreign Affairs Permanent Secretary has taken in finding closure to the matter.
"Our Permanent Secretary has been greatly responsive on the matter and we are grateful because once the issue is closed we will save resources by owning our own chancery and own house in a respectable representational area," said Ambassador Mukwita.
"consequently money currently used for rentals will be used for expanding economic diplomacy as per the directive of our President."
The top diplomat said currently the mission that has extra accreditation to Poland, Slovak, Austria, Hungary and Czech Republic could barely travel to all these economically active destinations due to a dearth or scarcity in financial resources.
"But once we make a huge serving when we stop renting and start owning respectable and worthy property," the Zambian ambassador said, "we will be able to spread our wings and deliver the necessary economic diplomacy we were sent here for which we hold dearly to our hearts."
Ambassador Mukwita thanked especially the Permanent Secretary Ambassador Chalwe Lombe for showing special interest and taking steps to resolve the matter of the chancery and Zambia residence.
The Zambian residence in Pankow for instance is located minutes from the Tegel International airport making it susceptible to never-ending noise pollution.
In addition, Pankow is not also considered a preferred residential area for members of the diplomatic community as the majority lives and works elsewhere.
The swimming pool as observed by the auditor General's report has remained dysfunctional since 1999 collecting debris and stones resulting in it becoming a potential breeding home for germs while ceiling boards and stair-cases are cracking.
In addition, there is intensive leaking of water pipes and lack of heating in a city where temperatures can trip to minus 5 degrees.
Concerns already abound that the chancery that has not been occupied since 1999 could be a matter of discussion by the city fathers, the City of Berlin that have received numerous complaints of it being an eye sore.
"We just don't want to answer questions regarding this matter before the Auditor General again when a solution at no cost to the government does exist," said Ambassador Mukwita.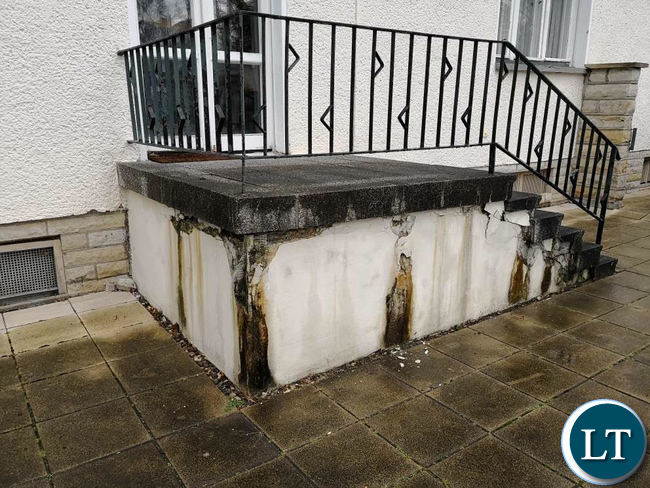 [Read 56 times, 1 reads today]