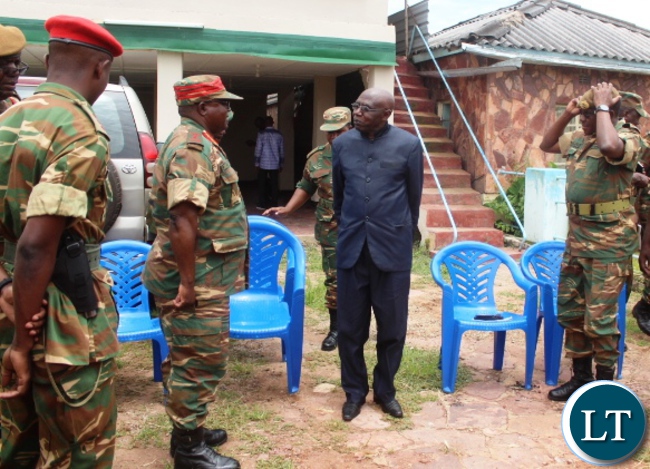 Zambia Army Commander Paul Mihova says no one should pretended to be allowed to deal in the abandoned Mukula logs in Isoka district in Muchinga province.
Speaking today when he paid a courtesy call on Isoka District Commissioner (DC) Evenwell Mutambo, the Army Commander said his officers are on the ground to guard and halt the new harvesting of Mukula logs.
Mr. Mihova said ZAFFICO is the only mandated company that has authority to sale the Mukula logs.
He stressed that the presence of the army in the district of Muchinga is to maintain peace for the citizens and halt the illegal harvesting of Mukula.
And Isoka DC has praised the Army for responding urgently in curbing illegal Mukula activities in the district.
Mr. Mutambo said Isoka was the core centre of the destructive harvesting of Mukula trees.
He said the endangered tree species could have been wiped out of the land in the area had it not been for the deployment of the army.
The DC also noted that the presence of the army has boosted the-security aspect on the Zambia- Malawian border at Kanyala and the Tanzanian-Zambia border.
Mr. Mutambo has further appealed to the Army Commander to help in repairing damaged bridges and the dangerous trench that is posing a danger to citizen in Kawenga village.
He praised the army for the cooperation in dealing with development of the area.
Mr. Mutambo cited the cleaning exercise that took place to avert cholera out breaks were the soldiers participated fully in the activity.
The Zambia Army Commander is in Isoka district to check on the troop that have been deployed to fight the Illegal Mukula trading activities in the area.
[Read 26 times, 1 reads today]