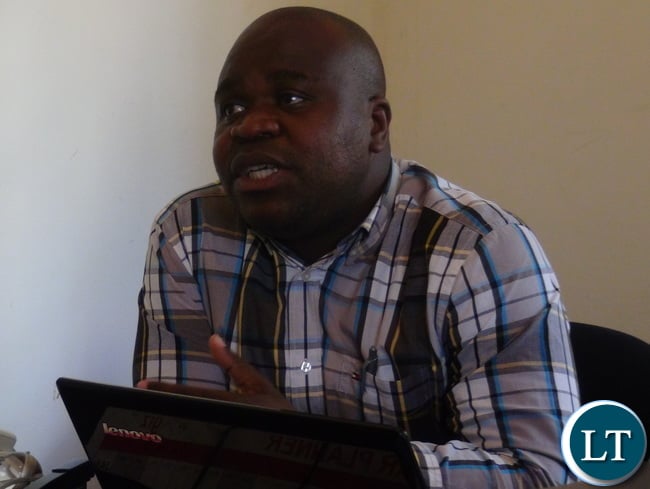 The Southern Centre for the Constructive Resolutions of Disputes-SACCORD has called on stakeholders to be civil in their discourse on the proposed Bill to limit the number of times an individual can appear on the presidential ballot.
In an apparent reference to the UPND who have taken the issue with the proposed motion SACCORD Executive Director Boniface Cheembe said there is no need for individuals and stakeholders to use violent communication when debating the issue but that people should be given an opportunity to understand the merits and demerits of the proposed Bill.
UPND chief whip Garry Nkombo on Wednesday during a press briefing held at their party secretariat described the motion as discriminatory and rubbish.
Nkombo said that the proposed motion that seeks to limit the number of times someone stands for presidency is discriminatory and aimed at clamping UPND president Hakainde Hichilema from being on the ballot in 2021.
"Frank Ng'ambi has been squeaking about a private member's motion which seeks to discriminate against certain people. The unfortunate people of Chifubu should be embarrassed to have such a representative.
"When a Member of Parliament brings a stupid motion like a motion that goes against the constitution then he is an embarrassment. In case you do not know Ng'ambi runs a small company called Fatmols where prostitutes meet. Running a small company is not the same as running a party," he said.
But Cheembe said his organisation has taken note of the demeaning statements towards individuals who are for the motion and that deliberations should be conducted in a civil, constructive and informative manner so as to allow the public understand and choose which side of the debate they should belong to.
"As SACCORD we have taken note of the motion that has been proposed to limit the number of times that an individual can run for the presidency. We believe that the debate that has ensued arising out this has to be deliberated in a constructive manner that allows for input from all concerned stakeholders or relevant stakeholders in their political process.
"What we want to appeal as SACCORD is that in a democracy were debate is concerned it is important that our leaders avoid using violent communication as we engage in debate. It is important our leaders avoid engaging in character assassination as we debate. What is paramount is that the merits and demerits of the motion be discussed in a constructive manner that allows for people to have an understanding of exactly what it is that various people and groupings are calling for and on that basis to allow our people an opportunity to make an informed decision in terms of which side of the motion they want to belong to.
"We hope that some of the negative violent communication that has been reported coming out various stakeholders is a thing that our leaders will take note of and avoid as much as possible but instead focus on the importance of discussing an issue in a constructive manner otherwise we believe that it is important to allow all individuals, all stakeholders to be able to be heard so that out of it our people can build consensus, out of it we can drive the nation in the direction that the general populace would like the nation to go," he said.
The UPND has become apprehensive with the debate which was first started by a young politician from the MMD, Prince Ndoyi who said there was need for the country to curtail the creation of dictators and anarchists within political parties.
Ndoyi also explained that the proposed law would help the nation stop power hungry individuals who continue to abuse the country's democracy for their own selfish interest.
A private member's motion is in the pipeline that seeks to limit the number of times a person can contest elections.
The debate has drown support from various stakeholders including LAZ, NGOCC and YALI among other prominent organisations who have seen the need to curtail power hungry individuals.
The outspoken young politician has gone further to say the situation in Kenya where Raila Odinga inaugurated himself is as a result of the non existence of such laws that prevent power hungry individuals from over contesting elections.
[Read 42 times, 1 reads today]