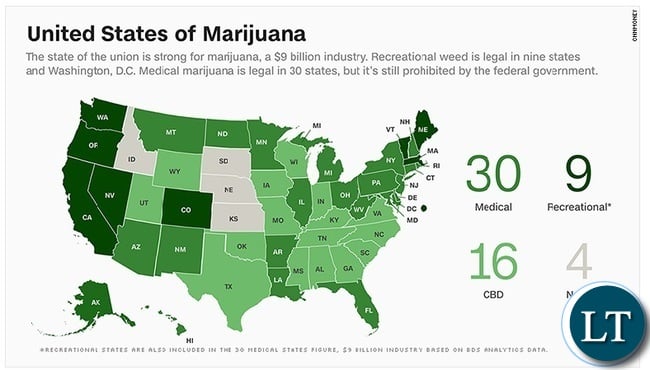 By Peter Sinkamba, Greens President
Poverty in Zambia is self-induced. If those who voted in 2014 and 2016 elections were serious with reducing their poverty, voting for the Green Party, Zambia would have helped the country jump out of the poverty frying pan by now.
Take for instance the U.S. where legal marijuana industry kicked off in 2014, the same time the Green Party floated the idea to the electorate, the marijuana business has become very big business in the U.S.
As at January, 2018, there are 30 States that now allow marijuana for medical use, 16 States allow Cannabidiol (CBD), 9 States and the District of Columbia now allow for recreational marijuana use. And more states are lining up to join the legalization wave.
The emerging industry generated nearly $9 billion revenue in sales in 2017, according to Tom Adams, managing director of BDS Analytics, which tracks the cannabis industry.
Just come to think of it: marijuana sales in 2017 were equivalent to the revenue for entire snack bar industry and was also more than the annual revenue from diapers in the entire U.S.
This year, the national marijuana sales are expected to rise to $11 billion and projected to reach $21 billion in 2021.
Meanwhile, copper revenue in Zambia from all mines put together, including ba jerabo, has plummeted from $6 billion in 2014 to $3 billion in 2017. Put different, the marijuana business has risen from zero in 2014 to four times Zambia's copper revenue in 2017.
Provided the mentality of Zambia voters remains focused on petty issued, we should just as well forget jumping out the poverty frying pan.
[Read 26 times, 1 reads today]