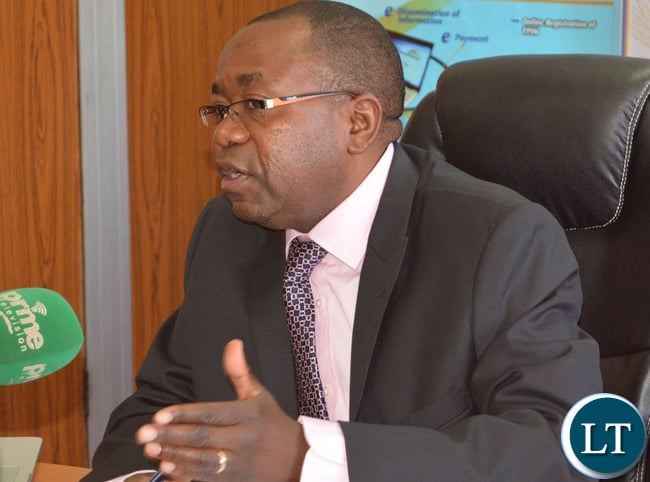 Zambia Revenue Authority (ZRA) Commissioner General Kingsley Chanda has said government can no longer rely on borrowings to support the national budget.
Mr. Chanda said it was for this reason that ZRA will continue to collect taxes through the available means as a way of raising its revenue.
He emphasized the need for tax payers to comply with payments of taxes to ZRA to avoid being inconvenienced.
Mr. Chanda added that the authority has the powers to close accounts of clients who do not want to comply.
He was speaking at a press briefing in Livingstone yesterday.
"ZRA will continue giving adequate information to clients through working closely with the media so that clients can comply on their own and pay taxes willingly," Mr. Chanda said.
Mr. Chanda also explained that ZRA is currently implementing a lot of electronic systems to curb illegal activities.
And when asked how much was lost as a result of smuggling of goods at various entry points, Mr. Chanda disclosed that it was difficult to estimate how much ZRA was losing as a result of smuggling but said a total of K850 million was recovered from various smuggling activities.
Earlier, ZRA Commissioner for Customs Sydney Chibbabbuka said all the entry points in the country are frequently visited to check on the operations and that in Southern province, his team has visited Katima Mulilo and Kazungula border posts among others.
Mr. Chibbabbuka disclosed that there was too much congestion at the Kazungula border post adding that the overcrowding seen at the entry point yesterday during his team's visit to the area was worrisome.
"Something has to be done at the Kazungula border post to deal with the congestion of trucks at the entry point," Mr. Chibbabbuka said.
He observed that the procedures involved during clearing of trucks at the border post should be quickened in order to speed up the clearing process.
And ZRA Commissioner for Domestic Taxes Moses Shuko said his team was in Southern province to share with its stakeholders such as the media what revenue authority was doing.
[Read 5 times, 1 reads today]