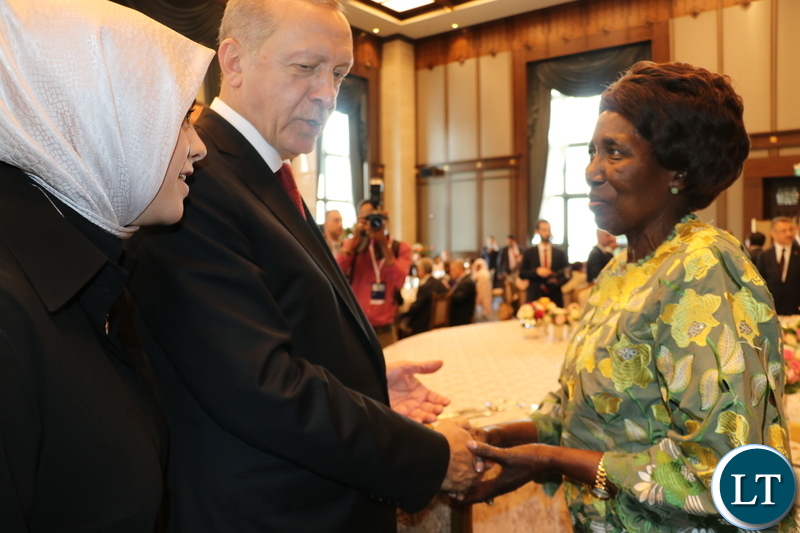 Turkish President Recep Erdogan has called for the expeditious implementation of the 12 Memorandums of Understanding (MoU) signed between Zambia and Turkey.
President Erdogan also stressed the operationalisation of the 12 cooperation agreements between the two countries when he conferred with Vice-President Inonge Wina during a luncheon hosted for Heads of States and high-level dignitaries at the Presidential Palace in Ankara on yesterday.
The Turkish President who was in Zambia for a state visit recently, said he was looking forward to President Edgar Lungu's official visit to Turkey anytime.
Turkey and Zambia signed 12 agreements during President Erdogan's historic visit to Zambia on July 28, 2018.
The signed cooperation agreements cover the fields of agriculture, stockbreeding, fisheries, tourism, trade and investment, sports, forestry as well as diplomacy.
Earlier, during the interaction with President Erdogan, Vice-President Inonge Wina noted that Zambia and Turkey have cordial relations hence government looks forward to the benefits of this relationship.
Mrs Wina noted that her visit to Turkey has already witnessed the two countries strengthening their existing bilateral ties.
And speaking during dinner hosted for her in Ankara, Mrs. Wina said the MoUs signed between Zambia and Turkey should be expeditiously implemented for the benefit of the people of Zambia.
She also urged Zambian students in Turkey to work hard so that they can return home to contribute to national development when they complete their studies.
This is according to a statement issued to ZANIS in Lusaka yesterday by the Permanent Secretary for Administration in the Office of the Vice President, Stephen Mwansa.
[Read 82 times, 2 reads today]