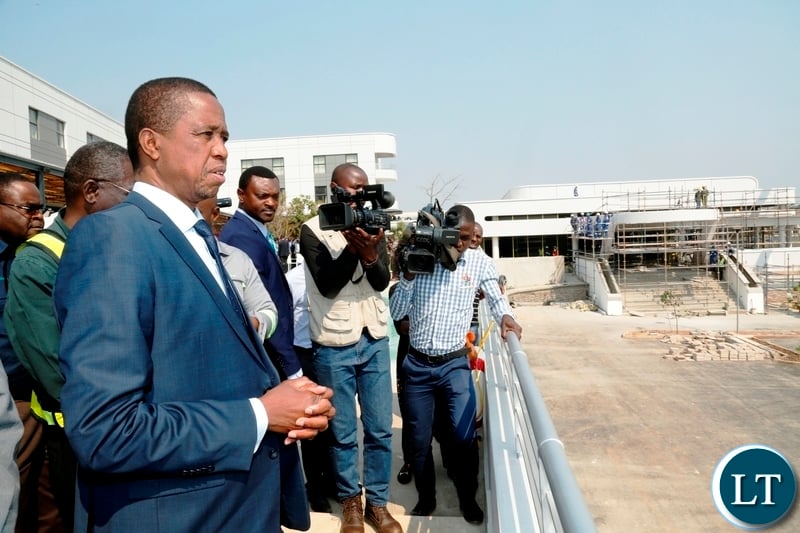 Human Rights Lawyer Moono Mapani has described as contemptuous President Edgar Chagwa Lungu's statement that he will contest in the 2021 general elections when the matter is in the courts of law.
Mr. Mapani has told Q-news in an interview that it is contempt to talk about contesting as a 2021 presidential aspirant when the matter is in the courts of law, pointing out that any reference made by the head of state undermines the outcome.
However, Mapani is prayerful that the court will come out in the open and tell the nation whether president lungu is eligible to contest or not. Mr. Mapani said that president lungu's statement shows that perhaps the Zambian president knows the outcome, adding that President Lungu's statement amounts to contempt thus the head of state must be cited for contempt.
Mr. Mapani advised President Lungu to respect the constitution as he swore to protect and defend the republican constitution at all cost.
And Opposition Movement for National Transformation President Daniel Shimunza has advised President Lungu not to interfere in the judicial process meant to determine whether or not he is eligible to contest in the Thursday 12th august 2021 Presidential election.
Mr. Shimunza said that he was concerned that the Head of State was talking about the matter which is in the courts of law a situation he described as unfair and prejudicial.
Pastor Shimunza said that President Lungu's action shows that the head of state does not respect the separation of powers.
Last week in Kitwe President Edgar Lungu asked his team to step up their game and see to the fulfillment of their campaign promises in order for him to successfully finish his tenure from 2021-2026.
Addressing a rally in Kitwe, President Lungu who was in the city to check on developmental projects urged his Members of Parliament, Mayor and the councilors to help him ensure that they deliver campaign promises made.
He said only the successful delivery of these promises would guarantee them rightful re-election in 2021 noting that he wants his end of 2026 to be resounding.
"I want to finish 2021 and 2026 with delivery, and we can only finished the 2021-2026 term if we deliver," President Lungu said.
The head of state gave himself and the PF government a pat on the back by appreciating the hyper positive development trajectory the country has been on since the coming in of the PF government in 2011.
"We can develop Zambia, from 2011 Zambians can see what we have done.. This was the vision of our President Michael Chilufya Sata, he had a vision for development and that of a bigger all-inclusive party," President Lungu said.
The head of state who was standing on a road in Ghanatone a part of Kitwe that has not seen bitumen roads for over 22 years boasted that people were joining the Patriotic Front because it was delivering unlike what 'abalufumo' is saying.
[Read 178 times, 1 reads today]