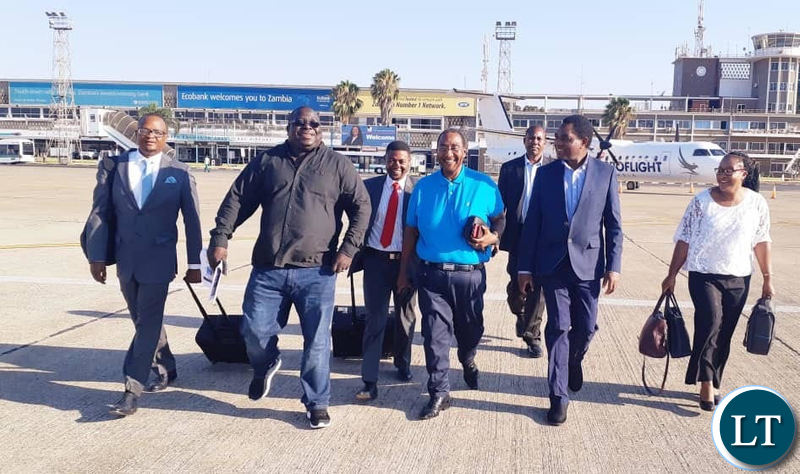 Police have recorded a warn and caution statement from opposition leader Hakainde Hichilema over the ZAFFICO riots.
Mr Hichilema was summoned to appear before the police in Ndola after riots broke out in protest following reports that ZAFFICO has been sold to a Chinese investor.
The UPND leader was questioned for over two hours but was allowed to go after police failed to charge him with any offence.
Mr Hichilema opted to remain silent through out the interrogation on the advice of his legal team.
He was accompanied by NDC Consultant Chishimba Kambwili and People's Alliance for Change Presideng Andyford Banda who offered solidarity.
The police however told Mr Hichilema that his statement was not in tandem with section 57 (1b) as read with section 60 (1e and f) of seditious practices.
Police also resorted to questioning Mr Hichilema on his role in the privatisation of parastatals under late President Frederick Chiluba.
Earlier, police played delaying tactics which agitated Mr. Hichilema's lawyers which included Jack Mwiimbu, Keith Mweemba, Gilbert Phiri and Mulilo Kabesha.
The matter was only resolved after Copperbelt Police Commissioner Charity Katanga was called in who later further directed that only the UPND President, his Vice and lawyers should remain in the interrogation room.
It had to take Mr Hichilema who intervened to allow Mr Kambwili and Andyford Banda to enter the interrogation room.
Meanwhile, ZANIS Ndola based Journalist Frank Chingambu has arrested by police for filming outside Ndola police Headquarters as he and other journalists awaited the arrival of UPND President Hakainde Hichilema for interrogation.
By time of publishing, Chingambu was still detained at Ndola central Police.
[Read 14,996 times, 1 reads today]