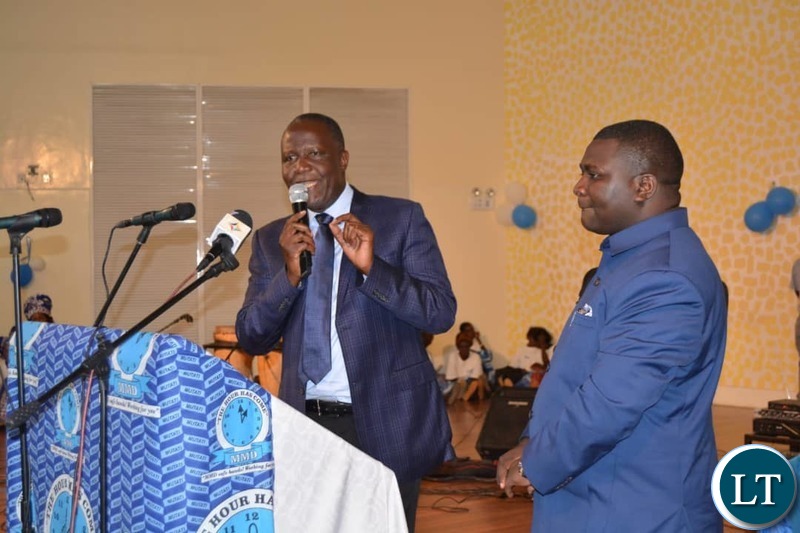 Movement for Multiparty Democracy MMD President Felix Mutati has described his National Secretary Raphael Nakacinda as gallant soldier of the party who has worked tirelessly to improve the fortunes of the party.
And Mutati has urged MMD members to continue improving on the works of his National Secretary and ensure that the party continues to grow.
Speaking in Mbala where he attended the centenary celebrations marking the end of the first world which officially ended in Abarcon, Mutati said Nakacinda was a fighter and courageous National Secretary who had managed to move the party in the face serious battering.
"Our national secretary has been a gallant soldier. He has been a fighter and courageous and has been able to move the party quiet aggressively in the face of many challenges and the battering that the party has endured thus far.
"The expectation of the members of the MMD is that the spirit of Mr. Nakacinda, the vigour, the agility in them is dispatched in terms of what he has done for the party and will continue to be demanded of him going forward."
The MMD leader further appreciated the nomination of his National Secretary but called on him to continue investing his energies towards rebuilding the party.
"We are grateful for the nomination of Mr. Nakacinda but we will be a lot more grateful that he invests his energies, creativity and agility to rebuilding the party to making sure that the relevance of the party is not only elevated, but becomes the party that the party was once known for in 1991."
Further Mutati called on the members to remain United and focused as they continue to grow the party.
"It is quite evident that the MMD is on the move. Our membership has been seized with the spirit of hope and renewal and clearly, a signal has been sent that the party has been re-energized.
"The card renewals that we have conducted provide the evidence that the numbers of the party are getting bigger and bigger. What we need as a party is to continue to hold together and move together and be anchored on the values and principles of our party. The values and principles that places national interest, at the forefront and that the people of Zambia are the ones that matter and we have always subordinated our interest as a party to the people of Zambia first," he said.
The MMD leader also met Republican President Edgar Lungu at Moto Moto museum who appreciated his presence at the celebrations.
[Read 2,628 times, 1 reads today]