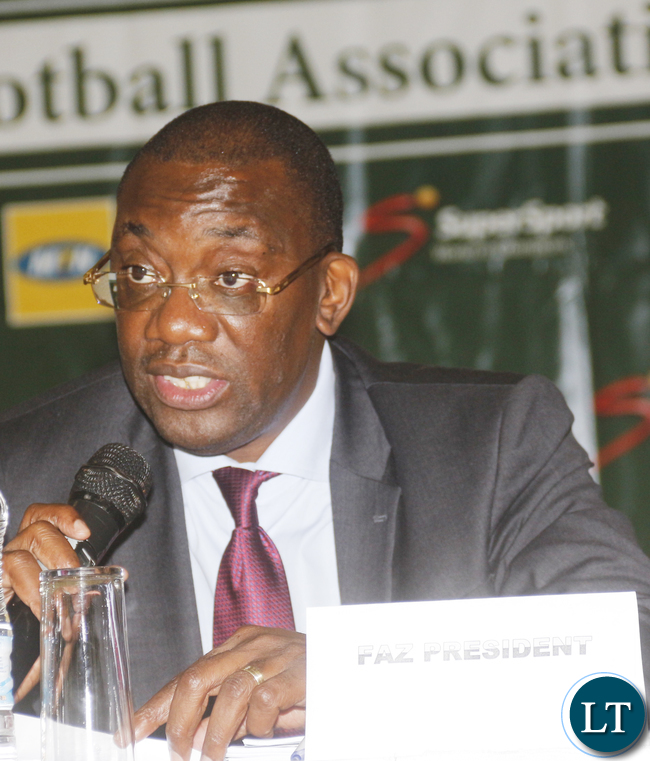 Football Association of Zambia (FAZ) President Andrew Kamanga says rumors circulating on social media alleging that FIFA has cut funding to the country's football governing body are misleading and false.
Speaking last evening when he featured on ZNBC's Sunday Interview programme last evening, Kamanga stated that at no time has FIFA cut funding to FAZ adding that the association has been receiving its allocation just like any other football federation on a yearly basis to the tune of One point Two fifty million United States dollars.
Kamanga explained that recently the World football governing body gave out One point Two fifty million dollars, out of which 750 thousand dollars is meant for projects while the 500 hundred thousand dollars balance is for operations.
He disclosed during the live broadcast that in the last three years the football association has not drawn the 750 thousand dollars meant for projects as it was completing the construction of the school of excellence in Luanshya which he said has since been completed.
The FAZ president stated that the three year cycle allocation of two point two million dollars is readily available at FIFA.
In breaking down how the funds are disbursed so far, Kamanga disclosed that in 2016 and 2017 the association received from FIFA the full amount of Five hundred thousand dollars.
" This year the association received 250 thousand in January and another 250 thousand dollars in July this year translating to Five hundred thousand dollars, " said Kamanga.
He clarified the false reports by revealing that the football association has continued to receive thousand dollars on a monthly bases from FIFA and that the association is just for the November and December allocation 2018.
Meanwhile in the same light heated interview, Kamanga disclosed that FIFA will next year increase the yearly allocations to football federations from One point Two to One point Five million dollars.
Commenting on the poor performance by the senior national team, Kamanga said his Executive is disappointed with the performance of the national team.
"We disappointed with the senior national team as FAZ, twice in a role they have failed to qualify for the the Africa Cup of nations" he said.
He said the performance of the senior national team so far was not what the association was expecting.
The FAZ president has therefore apologized to government, soccer fans and the national at large for the national team's failure to book a place at the Africa Cup of nation.
"On behalf of FAZ I wish to take this advantage and apologies to the government soccer fans and nations at large, the performance is not what we expected.
" Especially that we put in everything we thought was adequate to make the team to qualify." He said.
[Read 1,219 times, 1 reads today]