A delegation of prominent businessmen from Egypt is in the country to explore areas of investment in agriculture, livestock and energy sectors.
And President Edgar Lungu says government remains committed to cementing bilateral ties with Egypt in order to spur social and economic growth.
President Lungu said government will provide a favorable business environment for the delegation in an effort to enhance collaboration between the two countries.
ZANIS reports that President Lungu said this when the delegation comprising at least eight industrialists paid a courtesy call on him at State House yesterday.
The Head of State sated that the ease of doing business between Egypt and Zambia was among the major issues that he discussed with his counterpart President Abdel Fattah el Sisi when he visited that country in 2017.
"When I visited Egypt in 2017, we discussed various issues surrounding social and economic growth for the two countries and your coming will further cement the areas of corporation. As a government, we are in a hurry to develop this country and we have the Seventh National Development Plan (7NDP) that gives a guide where to invest and the line ministries will give you the required support," President Lungu emphasized.
President Lungu who showed enthusiasm during his interaction with the delegation, expressed optimism that the country will benefit from business pledges by the delegation owing to various companies from Egypt that have already invested in Zambia.
"I am confident that there will be further discussions to explore areas of investment, and government is committed to spurring economic growth and will work with you in the agriculture, livestock and fisheries as well as other sectors of mutual benefits," President Lungu stressed.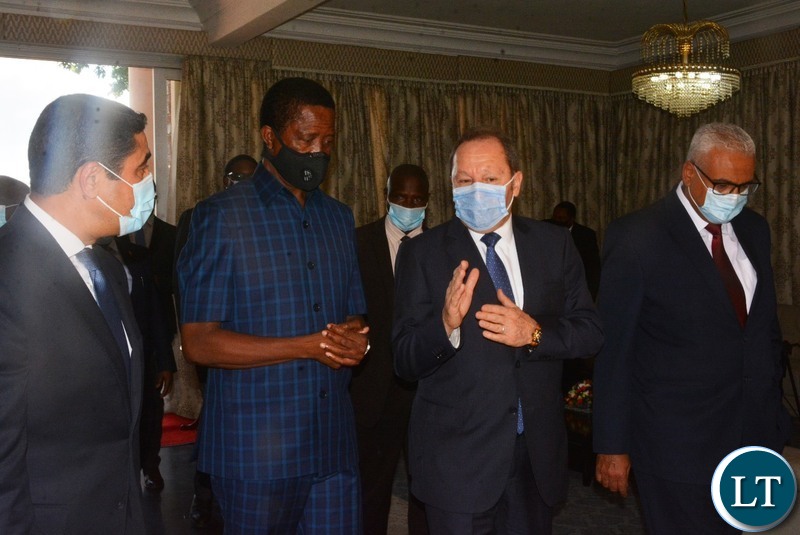 Meanwhile, Egyptian Head of Business Delegation to Zambia, Ayman Badea said the delegation wants to explore opportunities in the agriculture, fisheries and livestock as well the renewable energy sectors.
Lt. General Badea stated that the business team will support the economy through wealth and employment creation in the aforementioned areas of mutual understanding.
He indicated that their coming into the country is fully supported by President Abdel Fattah el Sisi.
"As you might be aware that our friendship dates back to days of independence, we deemed it fit that we now collaborate in the growth of our economies especially in the agriculture, fisheries and livestock as well as solar energy sectors. President Sisi is in support of our coming and this is an extension of the discussions, we had with Foreign Affairs Minister, Joseph Malanji in November last year.
On the other hand, Ibrahim Abdulsalam a member of the business delegation emphasized that the team is looking forward to various opportunities that exists in the agriculture and other sectors.
The delegation comprises Lieutenant General Badea who is heading the team, Lt. Gen. Ibrahim Abdulsalam Head of Investment Authority, Maj. Gen. Motaz Mostafa Kamel Deputy Head of Africa Department and Mohamed Darwish an engineer among others.
Egypt the first Arabic country to establish relations with Zambia in 1964, has agriculture as a key sector to the economy, providing livelihoods for at least 57 percent of the population and directly employing about 26 percent of the labour force.