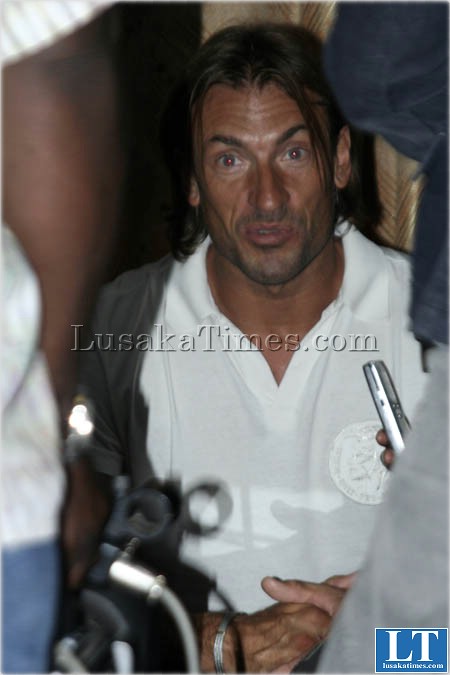 By Simunyola Benjamin
The Zambian National soccer team has been in the soccer lime-light for far too long without claiming any major continental cup apart from the COSAFA which now is failing them.
Concerned Zambians living in South Africa met yesterday (18/11/2009) to discuss the way forward for the National team. Mr. Isaac Kalilo Kahilu a Zambian Businessman based on Jules Street in Johannesburg calculated the team's performance which has become a tradition with most of us, leading to the Angola African cup of Nations. "we played 6 games, scored 2 goals and allowed 6 goals .Against even better performing teams who scored better but we still couldn't make it to the finals in Angola", said Mr. Kalilo. "How will the team perform better in Angola when they have shown that they can't score or defend?" he said, "no, we need to talk to the FAZ president and concerned football council staff to resolve this problem, this coach must shape up or GO!"
Mr. Javan Safeli a soccer developer and retired soccer player was also in attendance. "It's sad that our team is not showing signs of scoring goals and winning the games in Angola, rest to win the cup". Mr. Safeli said. "It's strongly suggested that the coach and the FAZ staff consider this as urgent and strategize for a change", he said.
Another Zambian supporter Mr. Tembo, a truck driver by profession was also present. "Why can't these boys stay home and save Zambia the millions in wastage? We can use that money for other developments unlike this soccer crisis" Mr. Tembo said. "It's embarrassing to see our National team every time losing even to unworthy teams like Rwanda"
The writer tried to get views from players based in South Africa whose phones where either off or not answered. Mr. Kalilo Isaac tried to phone the FAZ president Kalusha Bwalya who is believed to be staying in Johannesburg, but the phone was off.
The meeting called for the head of the coach, who they claimed sidelined players. During the meeting an attendee phoned the Zambian High Commission in South Africa to seek an intervention. However, the commission offered no help as they referred him to another Sports council official in Zambia.
The Gathering come-up with this probable line-up, failure to which the Coach and his FAZ cronies should find their way to their farms;
1. Kennedy Mweene 2. Joseph Musonda 3. Mbola 4. Chintu Kampamba 5. Elijah Tana 6. Moses sichone 7. Felix Katongo/ James Chamanga 8. Andrew sinkala/ Isaac Chansa 9. Jacob Mulenga/ Singuluma 10. Christopher Katongo/ Noah Shivuta 11. Clifford Mulenga. Bench; Kalaba, Billy Mwanza, Ian Bakala, Kalilo kakonje, Nyerendah.