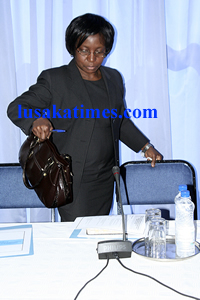 Electoral Commission of Zambia (ECZ) chairperson Justice Florence Mumba has bowed to pressure and tendered her resignation.
This follows allegations of corruption activities labeled against her and two other commissioners by dismissed ECZ Director Dan Kalale.
According to sources, justice Mumba tendered in her resignation letter to Republican President Rupiah Banda this morning adding that President Banda has not yet indicated his stance on the move.
This is a dent in a distinguished career that saw her as a judge at The Hague and United Nations and she is currently Zambia's Supreme Court judge.
Justice is alleged to have single-sourced and awarded a K1 billion contract to KPMG without following tender procedures.
And the dismissal of Mr. Kalale prompted workers at the commission to stage a protest vowing not to return to work until Justice Mumba was removed from her position.
Meanwhile, Caritas Zambia Executive Director Samuel Mulafulafu has described justice Mumba's resignation as mark of integrity on her career.
Mr. Mulafulafu says the former ECZ chairperson must be commended for taking a brave decision.
And Change Life Zambia Executive Director Fr. Frank Bwalya says it is regreteable that justice Mumba who he describes as a woman of integrity has resigned.
Fr. Bwalya adds that it is unfortunate that justice Mumba will not continue with her good works at the Commission and blames her resignation on government.
QFM
[Read 35 times, 1 reads today]