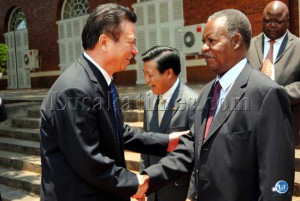 AFTER a peaceful transfer of power in September's election, Zambia faces the uncertainty of the new government getting laws through parliament and a possible energy crisis that could hit the expansion of Africa's biggest copper sector.
Investors have been rattled by the doubling of royalties on the base metal to 6% in last month's budget unveiled by Finance Minister Alexander Chikwanda.
He said that Zambia would not reimpose a windfall tax on miners and the World Bank has said the industry should be able to bear the higher royalties, but the investment climate could sour if the commodity cycle reverses.
Mines Minister Wylbur Simuusa said in London last week that the new royalties could be rolled back if copper prices collapsed.
Former president Rupiah Banda conceded defeat to Patriotic Front (PF) leader Michael Sata, who immediately declared he wanted to change the face of Zambia and would relentlessly fight corruption to ensure resources reached the intended poor.
Mr Sata scrapped the $5,4m sale of unlisted Finance Bank to SA's FirstRand , launched an investigation into last year's sale of telecoms operator Zamtel, and Mr Chikwanda told banks to cut interest rates.
Mr Sata's war with graft has earned him enemies. Mr Banda's Movement for Multiparty Democracy party and another opposition party say the corruption fight is a targeted persecution of opposition leaders.
The MMD and UPND together have slightly higher numbers in parliament over the Patriotic Front and if they succeed in forming an alliance, the opposition could frustrate Mr Sata's plans.
In a sign of Mr Sata's quick action on populist campaign promises, Mr Chikwanda said lending rates in Zambia were "inconsistent" with inflation, which hit 8,1% last month.
The dismissal of Central bank governor Caleb Fundanga with six months to go on his contract has also raised eyebrows among investors, who had approved of his tight grip on prices and oversight of the kwacha currency.
Although analysts say Mr Fundanga's dismissal had more to do with his cozy relationship with Mr Sata's predecessors, the delay in appointing his successor is now raising concern.
Zambia has also been hit by electricity shortages, with peak demand of 1580MW against available generation of 1401MW, according to the energy regulator.
High oil prices are also posing a risk to an end-of-the-year inflation target of 7%.
Global oil prices have climbed more than 17% this year and retail fuel prices have risen 11% since February. The $13bn economy is running at more than 6% annual growth but many Zambians say they have missed out.
Zambia's new government unveiled an expansive 2012 budget last month, with big increases in social spending and farming subsidies to be paid for by a rise in mineral royalties and a debut $500m eurobond.
Although the doubled mineral royalties will effectively raise revenue in the short term to finance the expenditure, Zambia may be forced to change the taxation method should copper prices fall.
The bond issue is also uncertain with the problems in the Euro Zone.
Despite having largely fulfilled his campaign promise to give Zambians more disposable income through lower taxes, Mr Sata's critics say he may undertake more measures financed by squeezing investors to please his urban base.
Zambia turned to the World Bank for finance, saying foreign aid and domestic funding were not enough to build the infrastructure needed to underpin economic growth.
Changes to watch for include increased expenditure; statements suggesting policy shifts; and a rise in economic nationalism.
Mr Sata was unlikely to take the path of resource nationalism and fiscal recklessness despite investor unease shortly after the veteran opposition leader was elected, analysts say.
But the government may reverse deals that will be found to have been corruptly agreed on under the previous government.
Zambia has attracted huge amounts of foreign investment, mainly in mining, from emerging markets such as China but many Chinese companies have been hit by strikes over poor pay and conditions since the change of government.
Mr Sata met Chinese investors operating in Zambia at the end of October, easing tensions, but also made clear that the Chinese firms that have ploughed more than $2bn into the mining sector would not get preferential treatment.
Amid concern about copper exporters misreporting the quantities leaving the country, Mr Sata has tightened loopholes, ordering that all export payments are routed via the central bank. He also appointed a new head of the antigraft body.
Zambian police last month charged a former labour minister with receiving stolen property after K2.1 billion kwacha ($414000) was found buried at his farm, in the first high-profile case in a graft crackdown under Mr Sata.
As well as investigating state fuel tenders, Mr Sata has said that Zambia's cabinet could overturn the sale of fixed-line operator Zamtel to Libya's LAP Green after a commission of inquiry found that it was illegally sold to the Libyan company.
[REUTERS]
[Read 14 times, 1 reads today]