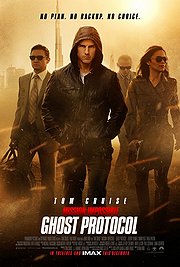 This is not just another mission. The IMF(Impossible Mission Force) is shut down when it's implicated in a global terrorist bombing plot. Ghost Protocol is initiated and Ethan Hunt and his rogue new team must go undercover to clear their organization's name. No help, no contact, off the grid. You have never seen a mission grittier and more intense than this.
PRO'S
Very exciting storyline that had more twists and turns than a formula 1 circuit.
The cast was excellent , especially Tom Cruise as Ethan Hunt.
The different locations, that the movie was set in , in different parts of the world were spectacular.
Simon Pegg (Benji) adds just enough quirky humor to the film to keep even the most dramatic moments light, but never takes this movie out of its heart-pumping niche
FAVORITE QUOTES
Brandt:YOU'RE NOT GONNA MAKE IT!
Ethan Hunt: You're not helping
Ethan Hunt: Who are you really, Brandt
Brandt: We all have our secrets. Don't we, Ethan?
Ethan Hunt: Mission accomplished!
CONCLUSION
This was an excellent movie , it gets two big thumbs up .Even someone who has never watched any of the Mission Impossible movies will be impressed. From the thrilling storyline , to the action scenes ,to the amazing locations ,this movie was simply the best. Tom Cruise's (Ethan Hunt)  kinetic energy drives and sustains the break-neck pace and adrenaline-pumping thrills , you wouldn't even believe that he is actually 49 years old. Mission: Impossible – Ghost Protocol is a terrific popcorn film to end the year on. It's a movie that you will want to see again
RATING
4 and half out of 5

BY KAPA187
[Read 11 times, 1 reads today]