Ruff Kid has been in the Zambian music industry for a decade and still going strong. With an energetic and strong stage presence and controversial approach to the music and entertainment industry Ruff Kid has proved himself to be one of the big names in the music industry
Born Masautso Nkhoma on March 17, 1986, Ruff Kid grew up in kitwe, in Cha cha cha township. He was the 1st born in the family of three . The young rapper was raised by his mother, Getrude Nkhoma, as a single parent, with no help from the father who left early in their lives.
In his third grade Ruff Kid was sent to the village Eastern province by his mother, and whilst there, the likes of Tu-pac Shakur influenced him to get into rap. Because of the rough childhood and suffering he went through, he decide to name himself Ruff Kid, a name that will always depict and remind him of his hard life as an adolescent. He attend Nyanje Primary School as a junior. He later completed high school as a Chongwe High School graduate.
Ruff Kid turned to rap at a very young age as an escape from the kind of life he was living and the poverty he was facing. In 2000 he met Mainza Chipenzi and recorded his first big record Wekatemwikwa which later opened alot of doors to his career. The record Wekatemwikwa went to number 1 on the African international music charts on Channel O , on the Urban Massive show. His 1st album "All 4 U" was released by Dream Records owned by the Muya Lungu and distributed by Zambia Angola Malawi Music Organisation(ZAMMO).
He later got signed by Joe Chibanga to release his second album titled "Matured". This album made him tour the Southern Africa, performing alongsides big names like Kabelo, Oliver Mutukuzi, Yvone Chakachaka, Jozi, Zola, etc..
In 2006 he release his 3rd album "Most Wanted" which had hits like Chita, bwete, Mwechilibwe, and the most controversial Chikalalila. The song "Chikalalila" caused alot of controverse in Zambia and other neighbouring countries because of the names of various artists that were mentioned in the record. The song revealed alot of truths about a number of artists private lives
Rapper and Hip-Hop Entrepreneur Ruff Kid won the Born and Bred Award for Best Hip-hop video, CBC Music video Award, Radio Awards. Also known for the most controversial song Chikalalila produced by Raydo, released 2007.After winning peoples hearts with countless hits, ruff kid went on to form his own Record label KANG'ONO ENTERTAINMENT.
MC Wabwino adopted Ruff Kid as his son so he could put him under his protection and guidance. Despite the controverse, Ruff Kid's name grew even bigger.
Currently, Ruff kid is working on his fourth long awaited album titled "Point Blank" scheduled to be released late 2012.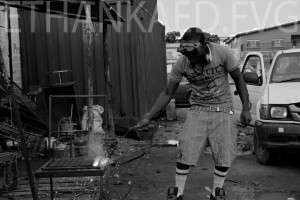 Kapa187: You have been i the music industry for a long time . How have you managed to keep your music relevant and fresh?
Ruff Kid: To grow musically and also get ideas and creativity from those around me and in society.
Kapa187:What changes have you observed in the music industry since you started ?
Ruff Kid: When I started recording studio's were extremely hard to find, by then there were maybe only two or so, and we had to work hard. Walk miles per day, try to talk to then big producers and artists.
Now things have changed a lot. You can pay a sum to go and record, and with the internet and socialnetworks, everything has become easier. Now we've more rappers in the game and the industry more has broaden up a lot.
Kapa187: Do you think zambian music is moving in the right direction?
Ruff Kid:I think so, it is defintely moving and progressing. We now have a variety of artists in the music industry working on their own work and we're getting more recognition.
Kapa187:You are currently working on your new album .What is it called and what can your fans expect from it?
Ruff Kid: My album is set to drop mid this year. It'll be called "Best of Ruff Kid Vol 1."  It is a celebration of my career. I've been in this industry for a decade now and I want to give my fans something to celebrate and my appreciation for the support and love through the years.
Kapa187:How will the new album differ from your previous ones.
Ruff Kid: This album will show the growth and development that I've made as an artist. It will of course include the Ruff Kid tunes but also something very different.
Kapa187:You have been described as "the zambian lil wayne" , are influenced by his style ? Do you think that comparison will hinder you from making it big internationally
Ruff Kid: I am not the Zambian Lil Wayne, I am Ruff Kid. We all are somehow influenced a bit of what is currently out there but how you take that and make it your own is every rappers success. I am and will always be myself, locally or internationally. I do not think that it will hinder me because Ruff Kidd has been all about music and progress for a decade now,
Kapa187:You will be releasing your single "Wilayivinyola" on the 17th of march. Describe the sound of the song.
>Ruff Kid: The song has the Southern African influence of Kwaito but it also has the undertone of our Zambian music. It is a feel good song. An uptempo, club song.
Kapa187: What has been the best moment in your music career so far.
Ruff Kid:This year is one of them. A decade in the industry and still going is a big accomplishment. The awards I've won and the times I've gotten to travel outside Zambia to see how far my music reaches and to see how music brings people together to just let go and feel good.
Kapa187: Were will Ruff Kid be in 10 years .
Ruff Kid:10 years? The sky is not the  limit and there is so much to be done. You'll just have to wait and see.
Kapa187:Is there is anything your fans will be surprised to know about you.
Ruff Kid: I am just an average man making the most of his life on earth and living out my dreams
Kapa187:Any last words for your fans
Ruff Kid: I have said this before and I'll say it again.
"It is about faith, if you believe it, you can achieve it.
Don't be sacred to being judged or criticized because that is what makes and builds you."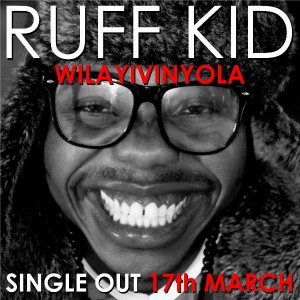 Wilayivinyola Video teaser

By Kapa187
[Read 239 times, 1 reads today]