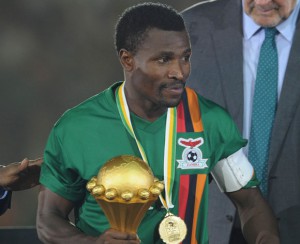 ZAMBIA soccer skipper Christopher Katongo has been ranked among Africa's top paid sportsmen, according to the latest figures from ESPN The Magazine's Money Issue salary survey project. Katongo, who guided the Chipolopolo to a historic 2012 Africa Cup of Nations triumph, reaps about a modest $458 000 (about K2.3 billion) annually.
According to Supersport.com, Ghanaian striker Asamoah Gyan is Africa's highest paid sportsman, earning about $16 million yearly while Cameroon's Samuel Eto'o gets in the range of $13.3 million.
The list is likely to draw controversy, as other financial reports had placed Ivorian star Yaya Toure at the top of the list. However, this
list comprises the earnings that represent salary and/or prize money from the 2011 calendar year or most recent season.
ESPN's survey says Yaya Toure receives $15.4 million, Angola's Manucho gets $865,579 with Malawian soccer player, Tamika Mkandawire earning $571 000 while Mali's Frederic Kanoute reaps $8.6 million.
Due to confidentiality of information for certain players, official salary figures were not available. In that case, ESPN used earnings that were based on information from multiple sources including leagues, agents, sports federations, cultural centers and the United
Nations.
The Black Stars player shares the 'title' with Liberia's Tamba Hali, who plays American football as an outside linebacker for the Kansas City Chiefs.
Togolese talisman Emmanuel Adebayor also reaps about $13.3 million with South Africa's Steven Pienaar picking up $4.2 million while Egyptians Mohammed Zidan and Mohamed Abu Treika each pocket $2.5 million.
Worldwide, Barcelona's Lionel Messi keeps his status as football's highest earner. He has bagged earnings of $43.5 million yearly – that's from wages, bonuses, sponsorships and endorsements.