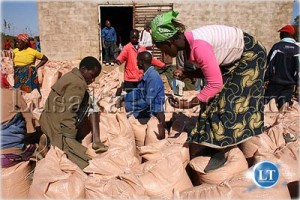 Zambia risks losing out on the anticipated increased investment destined for the African Agricultural sector if the country does not undertake specific measures to unlock economic structures that are currently impeding growth of the industry, says Civil Society Organisations.
The CSOs said growth in Agriculture represents a huge untapped economic opportunity in Zambia, which has over 70 per cent of people being employed in the sector currently.
And studies across Africa have also shown that growth in the agriculture sector is more inclusive and has the potential of reducing poverty 11 times faster than growth in other sectors.
2014 is the 11th year since Zambia signed the African Union Maputo declaration on Agriculture and Food Security that entails member states commitment to Agriculture spending and promoting annual growth in the sector of 6%.
Zambia's Agriculture spending has been on average six per cent between 2003 and 2013, which is far below the Maputo Declaration. Even with the current spending, concerns have been raised on the fact that Zambia is spending largely on the Farmer Input support programme (FISP) and the Food Reserve Agency (FRA) at expense of other critical interventions such as extension services and training, research, technology and infrastructure.
On 18th June 2014, Government leaders, Civil Society organizations, Farmers, Private sector and Development partners will meet in Lusaka to discuss how to revitalise the Agriculture agenda in 2014, which is the African Union year of Agriculture and food security.
The one day high level policy forum on Agriculture has been jointly convened by the Centre for Trade Policy and Development (CTPD), ONE, Civil Society-Scaling up Nutrition (CSO-SUN), Agriculture Consultative Forum (ACF), Indaba Agriculture Policy Research Institute (IAPRI), Platform for Social protection Zambia (PSP- Zambia) and the Ministry of Agriculture and Livestock (MAL).
The meeting, where Vice President Guy Scott and Agriculture Minister Wilbur Simuusa are expected to officiate, will commit to a set of principles, policies and strategies to identify the priority interventions required to boost smallholder farmers and to develop the agriculture value chain in Zambia's year of agriculture through the development of a national programme of action for Agriculture for the year 2014.
Speaking ahead of the meeting, Centre for Trade Policy and Development Executive Director Isabel Mukelabai said this was an opportunity for Zambia to diversify from being a mono-economy primarily dependent on copper exports to a broader economy that places Agriculture at the centre stage of initiatives to drive inclusive economic growth that would impact on the majority poor.
"Since the AU 2003 Maputo declaration on Food Security and Agriculture was signed, Zambia has made notable efforts to reform agriculture and address hunger as well as food insecurity, however, vulnerabilities still exist. This is because most of the Agricultural production in Zambia is currently at subsistence level and remains highly untapped in terms of its potential to drive the economy," Ms. Mukelabai said.
"To change this picture, Government needs to undertake specific measures to diversify the Agriculture sector by changing the economic structures that underpin agriculture so that it is unlocked to not only address food insecurities but also attract investment to drive growth, expand economic opportunities such as enhanced agricultural trade and address under nutrition."
She further explained that Zambia has potential to set the pace for economic growth through Agriculture in the Africa region if correct priorities in the Agriculture sector are set but also actually implemented.
"The Ministry of Finance has commenced the preparations of the 2015 national budget and 2015-2017 MTEF and this provides a ripe opportunity to ensure that key priorities in the Agriculture sector can be set. We would like to see more attention and budgetary allocations being made to support extension service provisioning to small holder farmers, research and technological improvements within the sector and not just FISP. We would also like to see Government taking firm steps to address current challenges in the agricultural value chain and improve the implementation of the agri-business strategies" she said. 
And CSO-SUN country coordinator William Chilufya urged Government to establish a framework to be derived from expected outcomes at the forum.
"Africa is rising as the number one investment destination in the world, and there are immense social and economic opportunities that can be derived from Agriculture especially if it is made nutrition sensitive so Zambia stands to benefit now and in the future if an effective framework to transform agriculture and negotiate better contractual terms with investors is put in place," said Mr. Chilufya.
"We are excited to be part of the High level Agriculture Policy Forum, it's a very good opportunity to begin addressing the issue of reforming existing Agriculture plans to increase their impact on Nutrition by encouraging diversity in food production that is aimed at improving the nutritional outcome of the population through maximizing the positive impact of food and agricultural systems on nutrition."
 
 
He added, "To overcome the dual challenges of under and imbalanced nutrition requires a diversified diet made up of safe, sufficient and nutritious food over the lifecycle, especially for women of reproductive age and children"
And Finance Minister Alexander Chikwanda says government has recognised that agriculture has the potential to drive the economy of Zambia.
"If developed to its fullest potential, the Agriculture sector will not only ensure national food security but will create the much needed jobs and earn the country foreign exchange through exports of food and other agro products, this is why we are putting in place a range of policies to support the productivity and profitability of agriculture," said Mr Chikwanda.