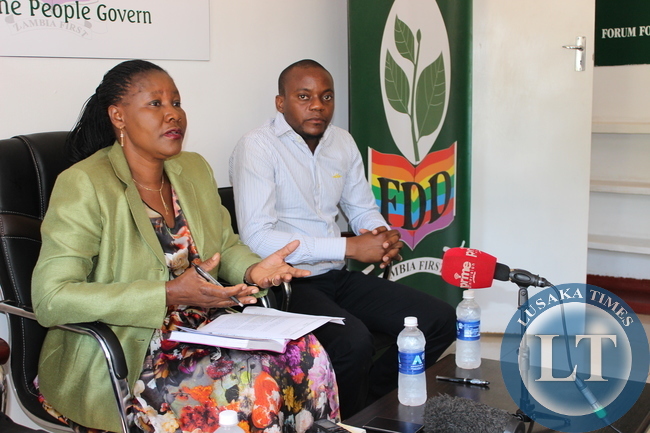 Forum for Democracy and Development President Edith Nawakwi has advised women to stop looking at politics as a dirty game fit only for the un-baptized and wicked as it is a calling to serve.
Ms. Nawakwi is calling on fellow women in the country to stop looking down on women in politics as political leadership is not different from any other leadership.
She has noted that women leadership is also provided in the bible hence women should stop shunning politics as that is the only way they will liberate themselves.
The FDD president has observed that if many women were in political leadership such as Councilors and Members of Parliament (MPs) cases of illegal land allocation and other immoral vices associated with politics would reduce.
She has however suggested that former Deputy Speaker of the National Assembly Mutale Nalumango should have taken over as the Speaker after Amusa Mwanamwambwa.
Ms. Nawakwi says she had personally hoped that after the changes in 2011 there would have been a female Speaker to join other countries in the continent that have female Speakers.
She is of the view that having a female Speaker would help the women's cause in the country as Ms. Nalumango would have used her position as Speaker to impress on the country's President to use his prerogative to appoint women as MPs to increase women representation in Parliament.
The opposition leader was speaking at the fundraising breakfast for St. Lawrence orphanage of Misisi Compound Chelstone Catholic Women's League in Lusaka today.
And Ms. Nawakwi has suggested that it is the duty of all citizens in the country to give a helping hand to those in need and that the CWL should be helped in the works they are doing by all well meaning Zambians.
She say it is also the duty of the communities to help were government has failed so as to lessen the burden of taking care of the needy in society.
Speaking at the same event United Party for National Development National Chairperson Mutale Nalumango said political party supporters should not take the debates and different opinions of the leaders into physical differences.
Ms. Nalumango says leaders differ on principal but that they will never fight over their difference in opinion or policies.
She has since called on supporters of different political parties to avoid fighting over political differences because their leaders argue in one minute but in the next minute they still interact at social places.