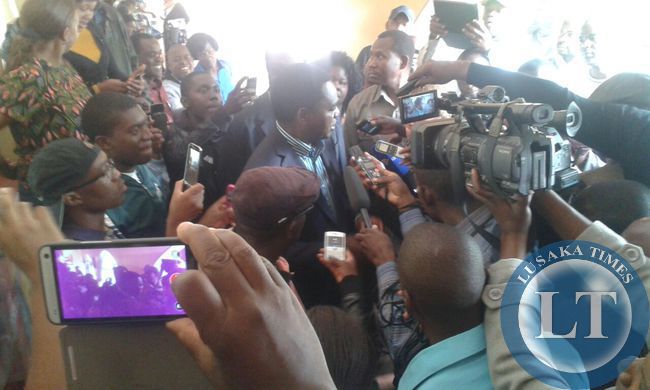 Opposition UPND leader Hakainde Hichilema has claimed that ruling PF candidate Edgar Lungu will win today's 2015 presidential election because he will allegedly rig votes from his (HH's) strongholds.
Mr Hichilema told journalists soon after casting his vote at Kabulonga Boys High School that there are no ballot papers in Chavuma West, Mitete, Liuwa and Zambezi West and accused the Electoral Commission of Zambia (ECZ) of helping PF candidate Edgar Lungu to rig the votes.
"How can you have no ballot papers in Chavuma West, Mitete, Liuwa and Zambezi West because by now people could have been voting…and these are my strongholds," Mr. Hichilema wondered.
By press-time, efforts to get a comment from PF Secretary General Davies Chama and Commission Spokesperson Chris Akufuna proved futile as their mobile phones were off.
And Mr Hichilema has dismissed assertions that he stole money from the proceeds of the sale of parastatal companies under the privatization programme in the early 1990s.
Mr Hichilema told journalists that he could have been prosecuted and jailed by Frederick Chiluba's regime if he stole any penny from the sale of public and quasi-government companies.
"I could have been in jail if l stole from the privatisation sale. My wealth is earned for and l'm a giant business executive," he said.
And Mr. Hichilema says he is the right man for presidency and accused the PF of mismanaging the economy because of bad governance.
Meanwhile, FDD leader Edith Nawakwi accused the ECZ officials of having disfranchised most women.
Ms. Nawakwi who is one of the presidential candidates in the race to State House, was incensed by the use of makers by ECZ officials at the University of Zambia polling station where she registered as a voter.
She said cutex would have been better because the maker can allegedly be 'rubbed off' after sometime.
Ms. Nawakwi took the Assistant Presiding Officer at the UNZA polling station to task saying she would engage the Returning Officer on the matter.
Meanwhile, Ms Nawakwi was delayed to cast her vote by over 10 minutes as she was requested to remove the nail polish from her thumb before she could proceed to vote.
The incensed Ms Nawakwi who was in the company of her husband Geoffrey Hambulo said there was no law that required women to remove nail polish from the right thumb before voting to enable the polling assistants paint it with a water marker as proof of voting.