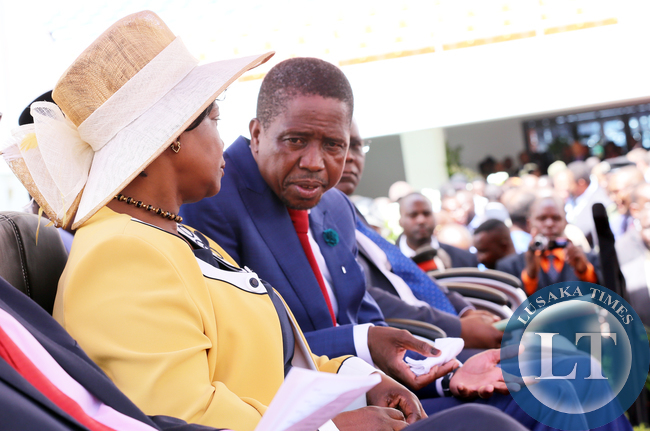 President Edgar Lungu and the First Lady Esther Lungu are expected in Addis Ababa to attend the 24th Ordinary Session of the African Union Assembly. The President as a newly elected leader as a tradition will address the African Union Assembly on 30th January 2015.
President Lungu is expected to have a number of bilateral meetings during the summit. The First Lady will also attend meetings of the Organisation of African First Ladies Against HIV I AIDS(OAFLA).
Meanwhile, Foreign Affairs Minister Harry Kalaba arrived in Addis Ababa on Monday evening to attend the African Union January summit which started on 23rd January 2015 and closes on 31st January 2015.
Mr Kalaba was accompanied by the Minister of Health Joseph Kasonde and Minister of Tourism and Arts Jean Kapata who is representing the Minister of Gender and Child Development. The theme of the summit is Year of Women's Empowerment and Development towards Africa's Agenda 2063.
This is according to a press statement released by the Zambian Embassy in Addis Ababa.
The Executive Council which is made up of Ministers of Foreign Affairs opened on Monday 26th January 2015 and closes today. A busy schedule awaits Hon Kalaba with the Executive Council today expected to debate, among other issues, Alternative Sources of Funding of the African Union whose budget is mainly sponsored by cooperating partners. The African Union is looking for a sustainable way of funding the continental body. Mr. Kalaba is also scheduled to have bilateral meetings during the summit.
The issue of the Ebola epidemic comes in the spotlight today where Mr. Kasonde is expected to take part. The summit will also discuss the setting up of the African Centre for Disease Control (CDC) and Zambia is bidding to host the regional African CDC.