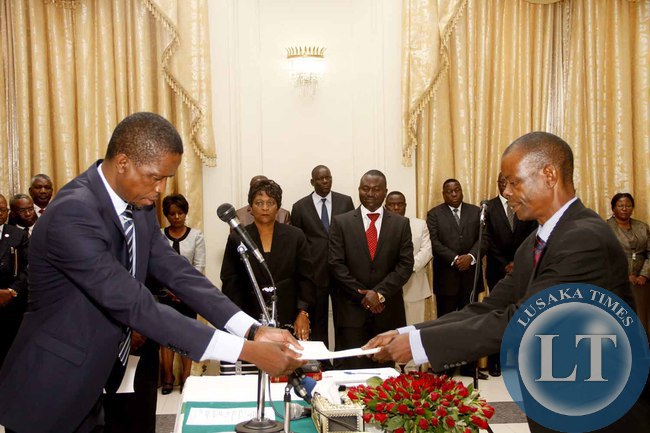 Senior Chief Mukuni of the Toka Leya people of Livingstone has praised President Edgar Lungu for appointing Chingola Member of Parliament Joseph Katema as Chiefs and Traditional Affairs Minister.
The Traditional Leader said that Dr. Katema is a calm and collected person adding that these are characteristics that will help him successfully oversee traditional matters.
Chief Mukuni said that it is important to have a humble Minister in charge of Traditional Affairs because chiefs can help government succeed or fail.
The traditional leader was speaking to ZNBC News in an interview in Lusaka.
Dr Katema takes over from professor Nkandu Luo following last week's dissolution of cabinet by President Lungu.
Dr Katema was Information and Broadcasting Services Minister in the previous cabinet where he doubled as Chief Government Spokesperson.
And CHIEF Madzimawe of the Ngoni Speaking of Eastern Province has welcomed the appointment of former information minister Dr Joseph Katema as Chiefs and Traditional Affairs Minister.
Chief Madzimawe said yesterday that President Edgar Lungu has appointed a good rightful person to handle the traditional affairs.
He said the appointment of Dr Katema who is Chingola Member of Parliament as Chiefs and Traditional Affairs would be supported by the traditional leadership.
"Dr Joseph Katema as Chiefs and Traditional Affairs Minister is a welcome move and as traditional leadership we shall support him. Let me thank the president for this appointment," he said.
He said the ministry of chiefs and traditional affairs was cardinal towards rural development as well as uniting all the tribes in the country.
He said he was happy that President Lungu had stressed the need for the Government officials to stay away from succession wrangles.
He said in the recent past, Government officials have been at the centre of controversy in the succession disputes saying the business of the Government was to recognise and gazette a person who had been chosen by the family as an heir to the throne.
"This directive from the President has come at a right time when most of the chiefdoms have been affected by the Government officials. Government has no business in the selection of the chief," Chief Madzimawe said.
He also said the preparatory of the Nc'wala traditional ceremony which would take place at Mtenguleni in Chipata this month was underway.
He said the invitation letters were being circulated to various institutions and people who were suppose to attend the ceremony.