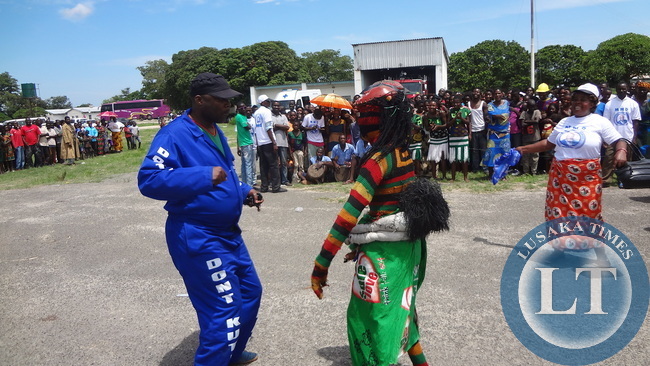 LUSAKA—As MMD youths, we wish to add our voice to the debate on the need to respect women especially those involved in politics.
Evidently, the debate was sparked off by an article in a tabloid newspaper which misquoted Education Minister and Mwandi MP Hon. Michael Kaingu over his remarks directed at his Namwala counterpart Moono Lubezhi.
The records show that the news article was manufactured by a Journalist who wanted to twist the context in which Dr Kaingu referred to Hon. Lubezhi.
Records have shown that Dr. Kaingu did not call Hon. Luzezhi a prostitute but merely mentioned the name Dorika in the conversation.
Even renowned Comedian Bob Nkosha who popularised the name Dorika has clarified in a Daily Mail article that Dorika does not mean a prostitute but a woman who is courageous and ready to go places.
We know that Dr Kaingu has shown great maturity and leadership by apologising for any injury caused but we wish to use this opportunity to make a few observations about the demands for respect from our female politicians.
As expected, some female politicians such as FDD's Edith Nawakwi and NGO leaders like Sara Longwe, Emily Sikazwe and Regina Musokotwane have jumped on the occasion to castigate Dr Kaingu and other male politicians calling them chauvinistic and rotten.
As young politicians, we wish to place it on record that the current debate centred on sexism is unfortunate and is draining the country's energies off the much focus on development.
We also wish to caution our female politicians especially to be very careful on how they conduct themselves in public because they will be judged by their actions.
The manner in which Ms. Nawakwi has been attacking H.E Edgar Chagwa Lungu is uncalled for and rather unfortunate.
We find it ironic that Ms. Nawakwi finds it so easy to raise the gender card when she is attacked and yet is has been insulting male politicians her entire political life.
Ms. Nawakwi should be reminded that the nation has not forgotten how she continuously insulted late President Dr Frederick Chiluba even when Dr Chiluba never insulted her back.
Late President Dr Mwanawasa and even former President Rupiah Banda also received their own fair share of insults from Ms. Nawakwi's handbag of insults.
From our standpoint, Ms. Nawakwi should be the last person to protest whenever she is insulted because her entire political life has been fed on a diet of insults.
Furthermore, the failed attempt to drag the life of young Iris Kaingu in this debate is cheap and unfortunate. The action by the tabloid to scan Iris's Twitter and Instagram accounts for tweets and photos for publication is another desperate act of Journalism.
What we know is that Iris is an adult who was enjoying her private time at a beach and was appropriately dressed for the occasion. What we however find fascinating is how Iris's bum shots found themselves on the front page when such images are all over on the internet?
We can only conclude that there is a malicious campaign by some desperate individuals to prolong a rather unfortunate debate which lacks focus except that it involves Dr Kaingu who happens to be Iris's father.
Our call on the nation is to refocus its energies on addressing key national issues such as unemployment and poor health care than prolonging a debate which should never have been there in the first place.