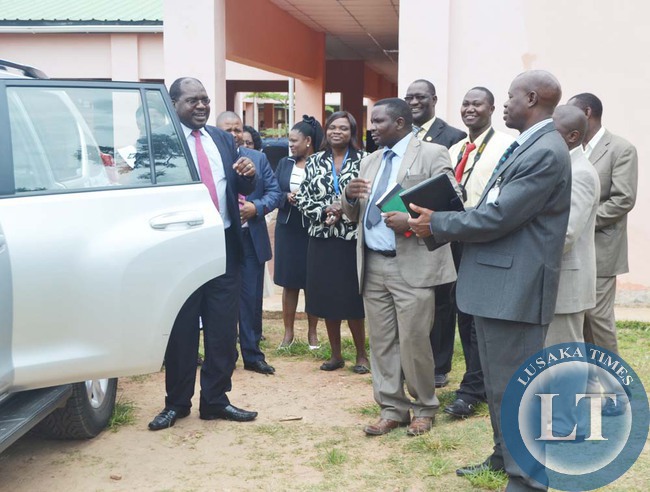 Government has called for scaling up of blood donation in the country in order to save lives of people critically in need of transfusion services.
ZANIS reports that Health Deputy Minister, Chitalu Chilufya says Zambia needs to make significant efforts of scaling up and strengthening collection of blood throughout the country through regular blood donations.
Dr Chilufya says a reliable pool of blood donors needs to be established in order for the country to have adequate supply of blood units for use in hospitals through the promotion of voluntary non remunerated blood donations.
He says blood transfusion is a key in the attainment of the Millennium Development Goal of maternal and child health as it plays an essential role in the provision of health care to vulnerable groups.
Dr Chilufya said this in a speech read on his behalf by his Permanent Secretary, Davy Chikamata, during the commemoration of World Blood Donor Day in Lusaka today under the theme "Thank you for saving my life".
The Deputy Minister said government has increased budgetary support to the Zambia National Blood Transfusion Service to ensure that there is equitable and affordable access to blood by all Zambians through appropriate clinical use of blood.
He disclosed that government has finalised the national blood policy that will guide and regulate the transfusion of blood in the country.
Dr Chilufya thanked the many selfless individuals for their continued donation of blood and cooperating partners for offering technical and financial support to blood donation activities in the country.
Meanwhile, the Zambia National Blood Transfusion Service has paid glowing tribute to Chief M'bang'ombe for taking a leading role in community participation in blood donation.
And speaking at the same occasion, Senior Chief M'bang'ombe of the Chewa speaking people of Katete district in Eastern Province called for the engagement of traditional leaders across the country to spearhead blood donation activities in their chiefdoms.
Speaking through his Induna, Zebron Banda, the traditional leader said there is need for concerted efforts to break cultural and traditional beliefs that hinder blood donations in communities.
And World Health Organisation (WHO) Regional Director for Africa, Matshidiso Moeti, bemoaned the low number of blood donations in Africa.
In a speech read on her behalf by WHO Country Representative, Solomon Kulala, Dr Moeti appealed to National Health Authorities to support the development and implementation of policies to attain self-sufficiency in safe blood and blood products.
She attributed the insufficiency of blood donations to inadequate and limited qualified health workers.
At the same function, Executive Director of the Zambia National Blood Transfusion Service, Gabriel Munyinda, expressed optimism that the country will meet the projected target of 140, 000 units despite increasing blood deficit challenges.
Several individuals, groups, schools and communities including Chief Mbang'ombe's chiefdom were awarded for making regular blood donations.