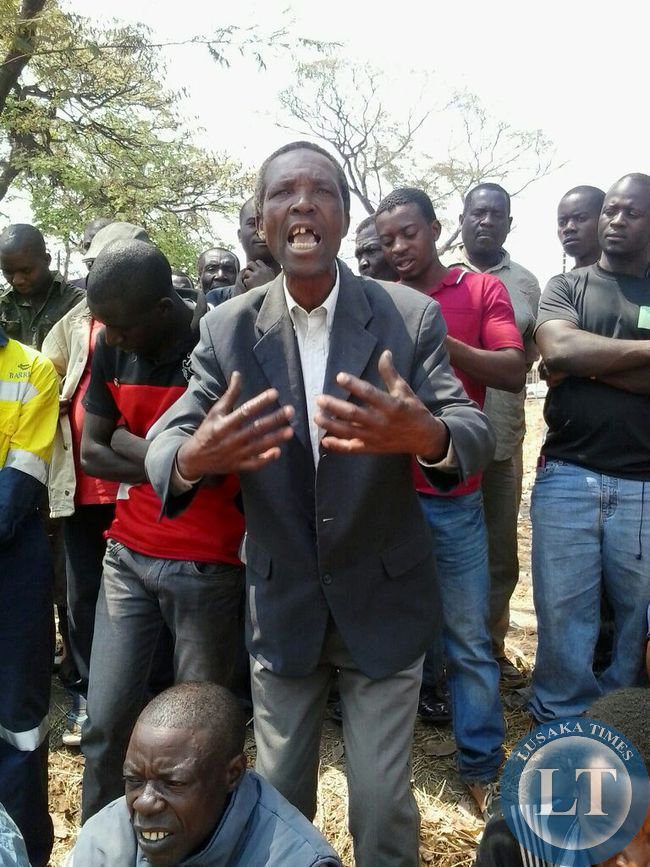 China Copper Mines on the Copperbelt has threatened to place the mine under care and maintenance if President Edgar Lungu does not stop government agencies from interfering with operations of the mine.
Company Director Yu Wang Ping said in a statement that the mine is being pressurised to lay off over 200 workers and suspend a $50 million investment which is aimed at creating 1000 jobs.
Mr. Ping is concerned that despite the mine fully complying with all the requirements from government agencies, pressure is still being exerted on the mine to seize operations for unwarranted reasons.
And Mr. Ping has alleged that the mine has suffered financial losses over the past two months due to disruptions in production by government agencies.
In September this year Chingola residents staged a peaceful protest against the China Copper Mine which had been dumping acid, oil and other chemicals in Kafisali since it started mining activities.
'The Chinese company has refused to observe any environmental and other regulations since it is involved in the production of pollutants that have affected the local people around the prospecting area.The company is involved in heavy pollution from blasting and copper trading even though their licence is confined to mining prospecting,' a resident complained.
The residents also called for a forensic audit into how a Chinese investor grabbed the mining area from Zambian owners under the directive of Mines minister Christopher Yaluma and Copperbelt Minister Mwenya Musenge.The residents alleged that Yaluma and Musenge pocketed large sums of money from the Chinese to facilitate the mine takeover.
The Zambia Environmental Management Agency (ZEMA) then served China copper mines with an Enviromental restoration order.CCM was ordered to take measures to reduce, remedy or mitigate any adverse effects related to pollution of the Fitula and Muntimpa Streams and surrounding environs resulting from its Leaching and Solvent Extractions Operations. CCM was specifically ordered to:
Immediately cease operations at the Leaching and Solvent Extraction Plants and associated infrastructure which were the source of the said pollution;
Construct another pond south of the current leach ponds to act as a Pollution Control Dam ("PCD") which pond is to be lined with High Density Polyethylene (HDP) material to contain future possible pollution occurrences;
Restore affected land including the two streams (Fitula and Mimbula);
Remove or alleviate any injury to land, animals, and the environment or to the amenities of Kafisali and Kankomo Communities; and
Immediately provide an alternative source of clean and safe drinking water to the communities of Kifisali and Kankomo and their livestock until such a time that the contamination in the Fitula and Mimbula streams is reduced to acceptable levels to the satisfaction of ZEMA.
However Company Director Yu Wang Ping has said the mine has suffered financial losses over the past two months due to disruptions in production by government agencies.