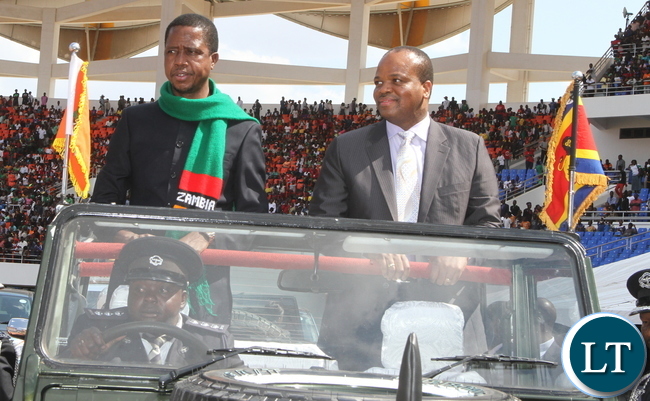 By Kalima Nkonde
In his independence message, President Lungu pledged to fight corruption vigorously and stated that there would be no sacred cows. This has been welcomed by many Zambians of good will as corruption is among the top problems that the country is facing resulting in economic problems and retarding the development of the country. This commitment to fight corruption by the President has been long overdue and like my previous articles have stated, it was giving the impression that he tolerates corruption and had abandoned the PF's compaign promise to fight the scourge. The President's address to the nation could have been only the second or third time that he has mentioned the word "corruption" in his last nine months of running the country.
The President's message, however, seems to suggest that corruption is all about civil servants getting bribes for providing services to the public which I found to be rather narrow and superficial. I , therefore, wanted to share with fellow Zambians that if the fight against corruption is to be successful, we need to have a deeper understanding of the different types of corruption so that the fight against corruption is broad based and not narrowed to those getting bribes as government workers!
For a start, it is important to define corruption as most people do not understand it. Corruption can be defined as the abuse of power by those entrusted with it for personal gain. It entails wrong doing by somebody who is in a position of authority through using his power illegitimately and immorally in order for him to personally benefit. The word corruption comes from the latin word Corrumpere which means to destroy or rumpere to break. Corruption, therefore, results in the decay of virtues and moral principles of a society. The effects of corruption hampers economic development resulting in the lack of faith and trust in both public and private institutions.
Corruption falls into three broad categories: bureaucratic, political and economic. President Lungu just touched superficially on one type of corruption and yet Zambia is faced with all three categories of corruption and so the fight against corruption has to be broad based and not selective. This article will briefly discuss the three broad categories of corruption found in Zambia so has to give a broader and better perspective to everybody.
Political Corruption
Political corruption entails politicians or state agents using their authority to sustain their stay in power and accumulate wealth. The examples in Zambia, include instances where wealthy individuals, multinationals, Parastatals have made financial contributions in order to assist the ruling Party to win elections. We have also seen in the past where the ruling Party at a given time uses state resources including money from treasury, civil servants like DCs, the army, the police and government vehicles for election campaign. The other form of political corruption is electoral fraud whereby votes are manipulated so as to predetermine the outcome of elections.
The latest form of political corruption in Zambia is the buying of voters especially during by elections by paying voters money so as to vote for a particular party. The PF and the previous ruling parties have also been involved in other serious forms of political corruption which is called patronage by favouring political supporters as opposed to the inclusion of other deserving Zambians whether opposition or independent. The PF has been appointing top officials such as Permanent secretaries, Judges, managing directors, board members of Parastatals etc not on merit but for their loyalty to the Party. The mess in the economy is one of the results of having low quality people in key positions.
Nepotism and cronyism is also another form of political corruption. This is where appointments to influential positions are made to relatives, friends and sometimes on the basis of tribe. This has led to mal functioning of many organisations and government departments and the PF has been very guilty of this since they came into power and President Lungu once acknowledged that there was too much nepotism in the civil service.
Bureaucratic corruption
This is the type of corruption the President was referring to in his speech which takes place on a daily basis which you are me are exposed to. In view of the bureaucratic system being slow and inefficient, officials solicit money in order to provide a service. Petty bribes are paid for passports, driver's licences, resident permits, work permits etc. It is also common with the police service where people pay bribes in order to avoid paying a fine for committing an offence. We have heard of hilarious stories where a house wife of a policeman was happy by telling her friends : Nomba naifwe twakulalwa bwino pantu bashi Chilufya nababa transfer ku traffic( our family 's standard of living is going to improve as my husband has been transferred to the traffic department). There is an another story of a traffic cop coming home from a drinking spree and asking his wife what relish was there for lunch and when she said, it was vegetables, the husband said, "Mpela ukuboko ndeya panga impiya yanama pamusebo" (Please give me my arm sash so I go on the road to make some quick money for meat). This is a demonstration how deep petty corruption has permeated our culture as even children and wives know and are tolerant of it!
Another form of bureaucratic corruption involves the embezzlement of public funds. The public officers convert public money or resource for personal use. This could be the use of a subordinate to renovate his or her house or using government vehicle for private errands. Bureaucratic corruption can also entail a "kickback" which is the official share of misappropriated funds. The award of government contracts and tenders where tenders are not awarded to the best bidder and the government official who approves gets a kickback from the company for the favour extended. In Zambia, with all the massive infrastructure projects going on, this is certainly wide spread. I wish to point out that whichever country embarks on massive infrastructure like Zambia has had, it attracts massive corruption as accountability is low.
Economic corruption
Economic corruption involves where secret deals are entered into with multinational companies where by agreements are skewed in favour of the investor in exchange for a kick back. In Zambia, this has clearly been the case in a lot of instances because how does one explain how the export of earnings from copper (forex) by the Mining houses in Zambia do not come back to Zambia in their entirety but only amounts to pay salaries, taxes and a few local costs are brought back to Zambia and we expect the currency to be strong when they supply of forex is constrained by the mines? It is like the get dividends whenever they sell copper! The economic figures indicated in our statistics as export earnings are just on paper as not all the money comes back physically to Zambia.
The question is how where those contracts signed with the mines in the first place and who benefited personally? In order to put economic corruption in perspective, do we know the total value that the mines have exported since they were privatized? Or do we know the total remaining reserves of our copper underground?
Economic corruption also entails a situation where big tenders are unfairly awarded to children, relatives and friends of those who are in power and those awarded the tenders either do a shoddy job or do not complete the job they were awarded. As a result of this type of economic corruption, we have in Zambia, people who have become mega rich overnight who we can call Tender-prenuers and not Entrepreneurs as they became rich from tenders and not through hard work and innovation.
Why is corruption high and rising in Zambia under PF
There is no doubt that corruption in Zambia did rise a hundredfold during President Chiluba's regime starting from 1991 with the privatization programme and only President Mwanawasa tried to contain it to a reasonable degree but from then on, it has been a downward spiral. The following are the main reasons why corruption in Zambia has continued rising:
The lack of investigative journalism and the absence of a vibrant and fearless privately owned press, television stations apart from The Post Newspaper, allows perpetrators to go scot free and not fearing exposure
The weak Civic Society and Non Governmental organisations who are more focused on politics than economics and do not monitor activities of government has resulted in Government officials not being afraid to behave corruptly because they know nothing will happen to them
The weak rule of law in Zambia with a discredited and not independent Judiciary with the judiciary itself being suspected of being corrupt
The compromised Anti Corruption Commission (ACC) whose reputation has been damaged. It has also been accused of being inept and corrupt. The ACC is not respected in the public eye as it is alleged to be selective in prosecution, concentrates on petty corruption and small fish and gets instructions from appointing authorities. The Auditor General's recent revelations about the incompetence of the anti corruption through losing files etc has not enhanced its reputation but damaged it.
The large and poorly supervised massive infrastructure projects such as roads, airports, power stations, schools, new districts awarded to foreign companies especially, have opened doors for getting kickbacks to those in power and their cronies.
The lack of political will and commitment at the highest level has given the impression that corruption is tolerated
The merging of the PF with President Rupiah Banda's faction of MMD- after President Michael Sata's death – which was perceived to be corrupt, has resulted in the PF being perceived as embracing the MMD's culture of corruption and therefore tolerant of corruption.
Conclusion
I hope this article will make people learn about the different types of corruption, what it involves, and why we need to fight the scourge so as to minimize its negative impact on our society. Corruption should not just be targeted at petty bribes by civil servants but at the bigger fish including the multinational foreign investors who should be fought and exposed.I would advice the President that he should put more emphasis on political and economic corruption which do greater damage to the country. I would also urge him to put a stop to all manner of investors going to State house as the Country have better qualified institutions to handle investors than the Presidency.
The practice promotes temptation for corruption by his Aides through access fees. The idea of taking investors to his office also cheapens the office of the President and gives the impression that he condones corruption. I would also advice him to remove Road Development Agency (RDA) from State house if it is still housed there. I would encourage the President to continue this fight against corruption and prove it through his actions as the old saying goes: actions speak louder than words.
It may just be possible that the suspects for corruption may be right in his Party and even at State house itself and if a simple forensic audit was done on their personal balance sheets, they may struggle to prove that the wealth they have acquired in nine months or four years was genuinely acquired and is commensurate to their earnings.