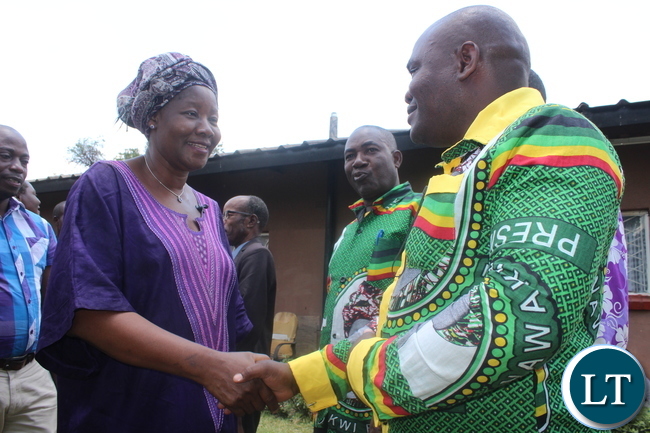 FDD President Edith Nawakwi says President Lungu is on the copperbelt to revive the political fortunes of the PF and not to save the job loses in the mines.
Ms. Nawakwi said President Lungu is feeling the heat and knows that things are bad for him and his party hence his decision to camp in the Province and try to revive the fortunes of the party.
" Ba Lungu will not camp here (copperbelt)because he wants to resolve the challenges in the mining sector. He is here to put structures for his re- election because things have gone bad for him and PF."
Nawakwi wondered what President Lungu will do differently to avert the continued job losses which he can't do without him taking a costly trip to the Copperbelt.
She said the only concern For the current crop of leadership is how to stay in office beyond 2016 which they have seen is highly unlikely due to the mess they have created in this country.
" Edgar Lungu is not coming here to sort out your problems as he is purporting, he is coming here to put up structures for his re- election in 2016 because he has felt the heat coming from the people in the Copperbelt due to the job losses. He has said he will do anything to make sure that he wins the elections and this trip is exactly about that," Nawakwi said.
"He claims that he is coming to resolve your concerns but what is there to resolve when thousands of jobs for children, husbands and fathers have already been lost. When he comes here will he be speaking to the people who have lost their jobs? The answer is a definite NO! He will go to the people who have put you on the street and nothing will be resolved because you are not his primary concern but his re- election," she added.
We can't even afford a 'pamela' yet the PF had promised us heaven on earth, cried residents of Kalilo area in Chingola rural.
And FDD leader Edith Nawakwi said it is shocking to see people in abject poverty when President Edgar Lungu was busy bragging of amassing wealth.
She wondered were he has gotten wealth which he has been bragging about to the extent that he will buy voters to ensure victory in next year's election when he didn't even have money for printing campaign T-shirts nine months ago.
Meanwhile women of Kalilo in Chingola vowed never to vote for PF even if they bring money for them.
" We have learn't our lessons here. This PF government promised us heaven on earth during the campaigns but look at us today. Even a 'pamela' is very expensive for us here. Eating Nshima in a day is a luxury. Ala tulechula kuno. Ba PF balelanda ati tukalaikala bwino, kashi bufi. Taba ta esako kuno. ( PF promised us better lives, but they have never even visited us here ). We are slaves in our own country," said Melody Kuchana who spoke on behalf of the women.
Kuchana said God will punish the PF for perpetuating the sufferings of the people.
And another resident Beston Chiluba said eating bread was a very costly experience.
"We don't know the last time we ate bread. Bread comes from chingola town for it to reach here it costs close to K12 now can we villages manage this. Tulefwa kunsala," Chiluba said.