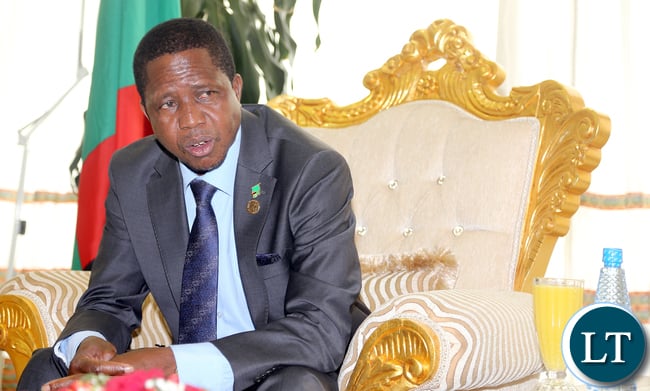 THE International Fund for Agricultural Development (IFAD) has praised the Zambian Government for the steps it has taken to end over-dependency on copper mining.
IFAD president Kanayo Nwanze said depending on a single commodity to run the economy was not sustainable.
Dr Nwanze said the Rome-based organisation, which is the leading multilateral investor in the livelihoods of poor rural producers in developing countries worldwide, would back Zambia's efforts to invest in agriculture.
IFAD's work is directed by the needs and concerns of poor smallholder farmers, agricultural labourers, pastoralists, foresters, fishers and small entrepreneurs in rural areas.
Its highly specialised mission is to enable poor rural people to overcome poverty, and to help them improve their lives by building farm and non-farm enterprises that are viable, sustainable and integrated into national and global markets and value chains.
Dr Nwanze was speaking after holding private talks with President Edgar Lungu at the IFAD headquarters on Friday afternoon. The talks lasted about 20 minutes.
"I assured your President that we will fully support his efforts to diversify the economy because that is the right thing to do," he said.
He also said IFAD had appreciated the positive impact of the Farmer Input Support Programme through which the Government had been supporting small-scale farmers with subsidised farming inputs.
Dr Nwanze said IFAD was working towards helping small-scale farmers in adapting to challenges resulting from climate change.
He said he had had a positive discussion with President Lungu, who was accompanied by Foreign Affairs Minister Harry Kalaba, his special assistant for Press and public relations Amos Chanda, special assistant for political affairs Kaizer Zulu, Zambia's Ambassador to Italy Gertrude Mwape, and other senior Government officials.
Dr Nwanze said IFAD would do everything possible to help Zambia overcome its challenges in the agriculture sector as that would rejuvenate the country's economy which had been dependent on copper for many decades.