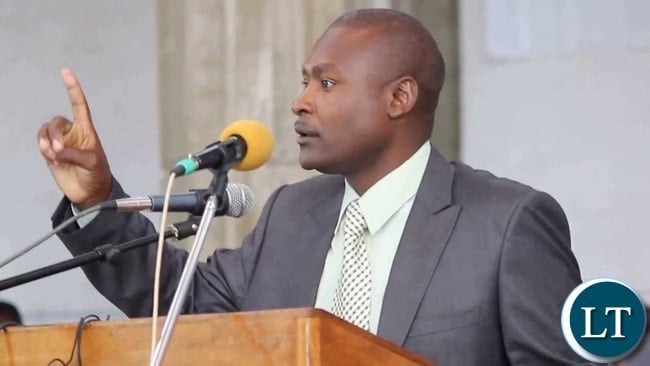 Patriotic Front Media Committee Chairperson Frank Bwalya has warned Rainbow Party leader Wynter Kabimba to desist from issuing malicious allegations suggesting that President Edgar Lungu incites violence.
Mr. Bwalya said that Mr. Kabimba should not drag the President's name in vices that are at variance with his democratic credentials.
Mr. Bwalya said that allegations are malicious because the Head of State has nothing in his life that indicates violence.
Mr. Bwalya said that the President hates all forms of violence which he openly denounces.
Mr. Kabimba has been quoted in yesterday's edition of the Post Newspaper as suggesting that President Lungu incites violence.
And Political stakeholders have hit back at Rainbow Party general secretary, Wynter Kabimba, over his degrading remarks to Zambian voters that it is a sign of insanity to award the Patriotic Front (PF) a fresh mandate, come voting in August.
Mr Kabimba, in a letter to Inspector General of Police Kakoma Kanganja, stated in part that, "no sane registered voter would go out on August 11, 2016 to reward PF".
His statement was carried in The Post Newspaper on Wednesday, this week.
Stakeholders interviewed separately warned that no opposition party will dislodge President Edgar Lungu, using hate speech, as portrayed by Mr Kabimba.
PF secretary general Davies Chama said the continued hate speech from the opposition leaders would not win them votes, but work to the advantage of the ruling party and President Lungu, in particular.
He said instead of criticising positively and bringing on board ideas on how to run the country, the opposition parties were busy attacking the President and PF over baseless issues.
"The opposition political parties are not intelligent enough to realise that personal issues will not win them votes. They are busy insulting and criticising President Lungu on issues that cannot win them the votes. They are actually giving us an advantage to get back into power," he said.
Zambian Voice executive director Chilufya Tayali said PF was highly likely to win this year's election, if opposition political parties continued with their tone of hate and issuing unwarranted attacks on the President.
Mr Tayali described as shallow-thinking, the use of insults and hate campaigns, to woo voters.
He said the Zambian people were well informed and needed leaders who could articulate issues that could help transform their lives and better the country's economy.
Mr Tayali reminded the opposition that issue-based campaigns were the logical way of campaigning in modern politics.
"The trend that is being witnessed by our politicians today, is worrying, because their insults at the President, only shows that they are out of ideas and digging their own political graves. Zambia does not have an opposition party that is effectively providing checks and balances, because they are all preoccupied with insults and anger vented at President Lungu," he said.
The North-Western Council of Elders chairperson Lukas Chikoti shared similar worries of a growing trend of hate-speech by the opposition camp, which was only a recipe for anarchy in any country.
Mr Chikoti said it was worrying to have politicians venting their anger at the President and the ruling party on baseless issues.
"Let us respect one another, unite and spread the love. Insults will not yield anything but promote anarchy. As elders, we want Zambia to remain peaceful at all times," he said.
The Southern African Centre for the Constructive Resolution of Disputes and the Democratic Governance and Human Rights Advocates (DEGHA) also condemned the escalating trend of vulgar language by some politicians.
SACCORD executive director Boniface Cheembe said in an interview that vulgar language, which demeaned the thinking and judgment of the electorate was a recipe for political violence.
"As SACCORD, we strongly believe that every well meaning politician should refrain from using vulgar language against the electorate, because such action breeds political violence," Mr Cheembe said.
DEGHA coordinator Gerald Mutelo said the electorate should not be victimised as it had the power of the vote in the hand.
"It is absolutely wrong to start calling voters' all sorts of names because it is them who have the choice of the secret ballot. The case should be that politicians must always focus on telling the people what they will do on the developmental front once elected into office," Mr Mutelo said.