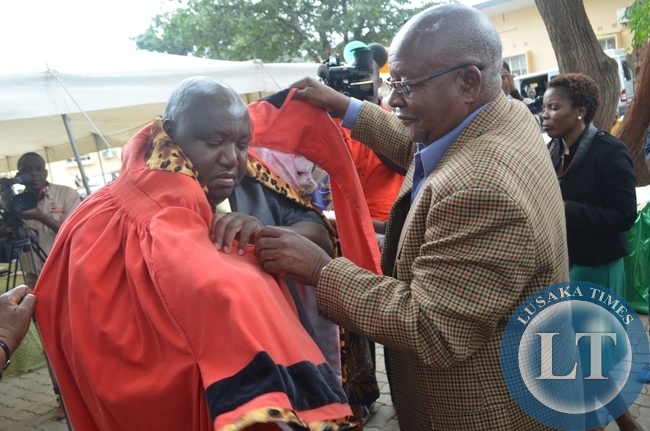 THE Livingstone Magistrate Court has acquitted two suspended United Party for National Development (UPND) councillors who were facing one count of obtaining money by false pretences.
This is in a matter in which the Milford Mambo,46, who is former Livingstone Mayor and former UPND councilor for Simoonga Ward, as well as Ziwa Ziwa, 39, former UPND Musitunya Ward Councillor, were facing one count of obtaining money by false
pretense contrary to section 309 chapter 87 of the laws of Zambia.
It is alleged that on a date unknown but between April 27, 2015and January 18, 2016, the duo jointly whilst acting together did obtain K47,000 from Davy Ngulube by falsely pretending that they had a plot for sale when in fact not.
But when the matter came up before Livingstone Magistrate Michael Mulalelo yesterday for the commencement of trail, the complainant Joan Ngulube who was in the witness's docket raised her hand to the surprise of the state and told the court that she had an application to make.
Ngulube old that court that her application was that of wanting to withdraw the matter because she had been given her money in full by the accused persons.
The state then objected to her application saying that the matter was a criminal case which meant that it was now the state verses the accused persons and the complainant had no right to withdraw the case.
"The witness must note that this is a criminal matter. The state is not ready to accept her application and we object to that. This is a criminal matter where the state has interest in. There is no
documentation which shows that the complainant did receive the money.
"We are therefore applying for an adjournment to April 13, 2016for commencement of trail because it appears the witness is not ready today. We also want to verify whether she has been paid and also consult authorities," the State said.
However, the complainant who was scheduled to be the first witness insisted that the matter be withdrawn because she has documents showing she was given back the money.
"I have the documents showing I have been paid. This is why I find it convenient to withdraw the matter. I had even left but I was called to come back," she said
The state again attempted to object saying that she was merely a witness who has no right or say in the matter as the state had already stated.
This prompted Magistrate Mulalelo to make a ruling and acquitted Ziwa and Maambo.
"The witness being the complainant in this matter has the right to withdraw the matter. I will allow her application and the two accused persons are hereby acquitted," he said.