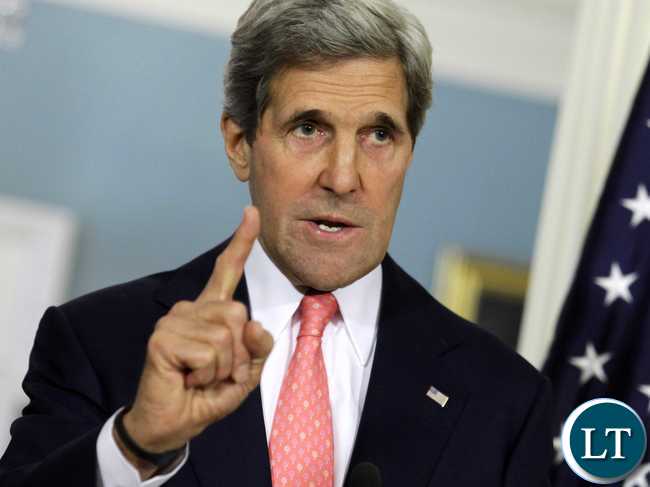 U.S. Secretary of State John Kerry says the U.S. government in 2015 observed serious human rights problems in several areas in Zambia.
In a statement released by the State Department following its 2015 U.S. Country Report on Human Rights Practices in Zambia, Mr Kerry said the U.S government noted several instances in which Zambian government officials threatened to close, censor, or initiate legal action against radio, print, and internet media outlets over pieces considered to be critical of the president, government, or ruling party.
Mr Kerry also observed several instances in 2015 of violence against journalists by ruling party supporters.
"As stated in our 2016 press releases, we remain worried about political violence, reported as a serious human rights issue in this 2015 report," Mr Kerry said.
The country-specific Human Rights Reports are documents the U.S. Congress, by law, requires the State Department to prepare annually and make public.
The reports cover internationally recognized individual, civil, political, and worker rights, as set forth in the Universal Declaration of Human Rights and other international agreements.
U.S. Embassies compile Human Rights Reports with help from host governments, local NGOs, and other members of civil society and use them to work with governments to improve their human rights records.
Mr Kerry said, "United States, of course, has its own human rights issues; the publication of the annual reports is intended to reflect U.S. commitment to the advancement of human rights around the world."
He said, "The U.S. government in 2015 observed serious human rights problems in several areas in Zambia. The U.S. government also continues to be concerned over reports that police in 2015 used the Public Order Act to block opposition or other gatherings, citing a non-existent requirement for a permit to assemble, rather than legally required prior notification."
The 2015 U.S. Country Report on Human Rights Practices in Zambia also documented other significant human rights problems during the year in further detail.
These included abuses by police, including reports of unlawful killings, torture, and beatings including Gender-based violence.
The abuses that the U.S government highlighted are the life-threatening prison conditions, arbitrary arrest, prolonged pre-trial detention and arbitrary interference with privacy.
They also expressed concern over displacement of landowners, Government corruption, Child abuse, trafficking in persons, discrimination against persons with disabilities and minority communities and Child labor.
The United States is however pleased to note the Zambian government's increased support to the Human Rights Commission and the Prison Service Commission.
The government and people of Zambia also demonstrated a continued commitment to the humane resolution to the status of refugees in Zambia, whether through repatriation or local integration.
The United States is committed to working together with the government and people of Zambia to address human rights concerns in Zambia and globally.
That includes U.S. support for Zambian initiatives to promote the rule of law, press freedom, police professionalism, and other human rights issues.
"As we have stated, the U.S. government takes no sides in political debates, other than that of the Zambian people," the report said.