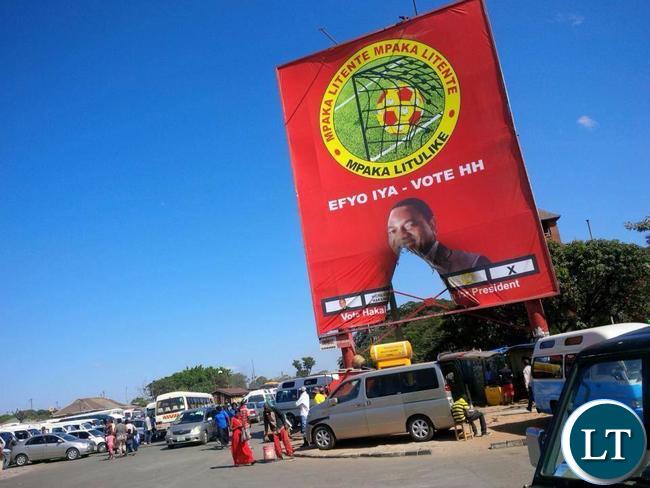 UPND leader Hakainde Hichilema has come out strongly to condemn the damage being done to the party's campaign materials by PF cadres.
Mr Hichilema said the damage being done to UPND billboards and posters has never been seen before.
He said, "There is a lot of provocation going on. We fully understand the anger and frustration of our supporters but we want to reiterate the importance of restraint at all times."
Mr Hichilema said this call is not a sign of weakness but a show of strength that UPND members can bare such pain and not lower themselves as the party has the positive and clear message for the people.
"In such matters we take solace and wisdom from Jesus Christ who still found room in his heart to forgive those who tormented him. Our billboards, posters and other campaign materials are being savagely ripped to pieces by opponents in a manner never seen before in the history of our great nation," he said.
Mr Hichilema said part of the UPND's 10 Point Plan for Zambia is to leave this thuggery behind through good governance and bringing order and peace to the nation once again.
"We want a country and a democracy where it will not be a crime to hold divergent views. We want a country where people are held to answer for such criminal acts, which not only violate the electoral code of conduct but vandalism of public property which is also a crime."
Mr Hichilema said these billboard companies do not belong to the UPND but to Zambian companies and entrepreneurs who are being paid and who in turn create jobs for our people under difficult economic situation.
"Our message to our people once more is let's be civil and forgiving. God is watching and sees all. Matthew 6:14-15 NIV. For if you forgive other people when they sin against you, your heavenly Father will also forgive you. [15] But if you do not forgive others their sins, your Father will not forgive your sins."
Meanwhile, Police have warned political party cadres to desist from removing their opponents' campaign posters.
Deputy Police Spokesperson Ray Hamoonga said that political cadres should allow candidates of all political parties' equal space to disseminate their campaign messages in the interest of peace.
Mr. Hamoonga said that all validly nominated candidates of the various political parties must have the same level playing ground that will ensure the credibility of the electoral process.
He said that the Police will arrest anybody found remove any billboard or poster of any candidate will be dealt with in accordance with the law.