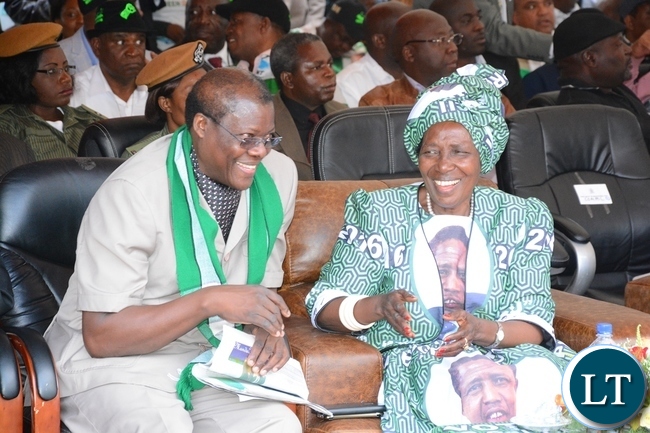 The filing in of nomination papers for aspiring candidates for Members of Parliament countrywide on Tuesday was characterised by heavy drama as some candidates making last minute defections while other failed to make it on time to file in their papers.
In Lundazi, Dr Phiri was turned away after arriving late and the uncompromising electoral officers refused to attend to him as he appeared drunk.
Dr Simbyakula who was viewing for the Muchinga seat on the PF ticket equally failed to lodge in his papers after arriving late at the nomination papers.
In Mansa Central, former MP Chrispine Musosha managed to file in his nomination on UPND for Mansa Central after being left in the cold by PF.
The same was the case in Lusaka's Chawama constituency when former Lusaka Deputy Mayor Potiphar Tembo switched parties at the last minute to stand on the UPND ticket after his original party PF settled for former MP Lawrence Sichalwe.
There was further drama in Roan constituency in Luanshya when the UPND candidate Joseph Chilambwe turned up at the nomination centre to withdraw his candidature leaving the UPND officials that accompanied him dump faced.
The news of the late withdrawal of the UPND candidate was met with jubilation in the PF camp in the district which believed that former MP Chishimba Kambwili was going to go through unopposed.
The UPND in Luanshya however quickly managed to find a replacement for Mr Chilambwe in the name of former Luanshya Mayor Reuben Kayekesi.
In Lusaka's Kabwata constituency, gun shots were fired at St Patricks Basic School to scare away PF youths who threatened to beat up Independent Candidate Clement Tembo.
The PF youths who accompanied former MP Given Lubinda to file in his nomination papers were incensed when they allegedly spotted Mr Tembo flashing the PF symbol and wearing PF regalia when was running as an Independent candidate.
Five shots were fired in the air and about 10 supporters of Mr Tembo sustained injuries in the fracas that ensued.
At the same centre, UPND candidate Mulenga Sata managed to successfully file in his nomination papers on second attempt after he was first turned away for having some documents missing.
In Munali, more drama erupted after two UPND candidates turned up at almost the same time with two adoption certificates.
Kangwa Chileshe and Doreen Mwamba all had UPND adoption certificates as the dully adopted candidates for the party for the Munali seat.
Mr Chileshe of the Kabanana soap opera fame however agreed to allow Ms Mwamba to file in and agreed to support her throughout her filing in process.