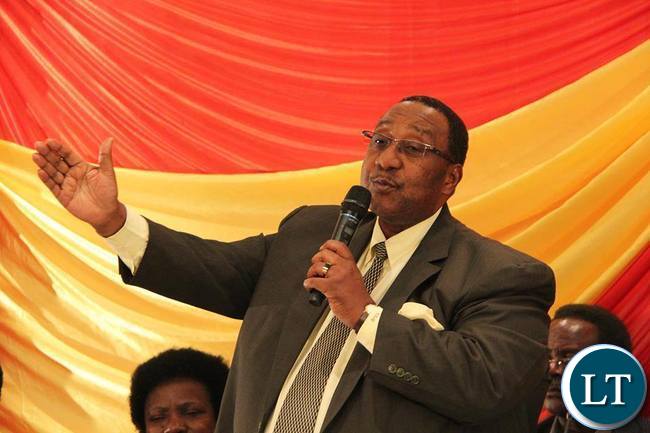 UPND Vice President Geoffrey Bwalya Mwamba has threatened to sue Daily Nation Newspapers Editor in Chief Richard Sakala for publishing what he termed as lies in his newspaper.
Mr Mwamba said Mr Sakala has published a story with a burner headline "GBM INSULTS BEMBA CHIEF" but that when one reads the story there is no single insult attributed to him.
He explained that the issue he raised was about a chief being used to peddle hate between Tongas and Bembas under the sponsorship of President elect Edgar Lungu.
"I find it appalling that Mr. Richard Sakala and his trash newspaper the Daily Nation have waged a war against me. In todays edition, Vol 3 Issue 1439, there is a screaming headline"GBM INSULTS BEMBA CHIEF".
"However, when one reads the contents not even one insult is attributed to me. The issue here is about a chief being used to peddle hate between the Tongas and Bembas on sponsorship of Edgar Lungu and his minions. The purpose is to bring about a division between these tribes when none exists.The paper further castigates in their editorial of the same issue with innuendos that I am insulting and threatening my perceived enemies.
"Let me state for the record, that informing the nation on the misbehaviour of an eminent personality, like a chief, does not constitute an insult," he said.
Mr Mwamba explained that he belongs to the Bemba Royal family and his politics has nothing to do with Bembas but the well-being of all Zambians.
"I belong to the Bemba Royal family and my engaging in politics is not for Bembas alone but for all 73 ethnic tribes of our motherland. My project is to bring all these tribes together and serve them with equity under the spirit of One Zambia One Nation. No tribe is greater than the other or more Zambian than the other," he said.
He added "In view of the ongoing and the intransigence of one Richard Sakala and his Daily Nation newspaper, I am left with no option but to seek legal redress for the numerous malicious and scandalous articles that have been attributed to me by his paper."