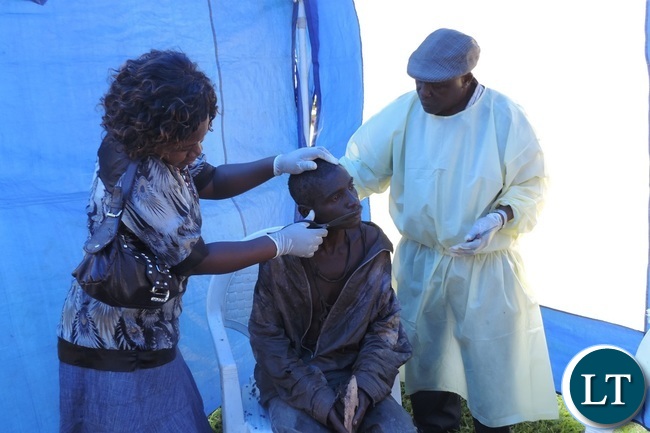 THE Livingstone District Medical Office has called for concerned efforts to address Gender Based Violence (GBV) as well as alcohol and drug abuse among youths to mitigate cases of mental illnesses.
Acting Livingstone District Medical Officer Evelyn Jere said GBV as well as alcohol and drug abuse among youths were among the many vices that should be addressed because they were contributing to cases of mental health in society.
Ms Jere said the misuse of technology such as internet among youths was also contributing to cases of mental health cases.
She was speaking in Livingstone at the civic centre yesterday during the commemorations for the World Mental Health day held under the theme "Psychological First Aid".
"There is need to step up measures that will mitigate these problems. As an office, we intent to bring out information, education and communication materials where we will teach communities against GBV.
"We will also go round schools to teach youths against alcohol and drug abuse and on the advantages of staying in school and the proper and benefits of using internet," she said.
And officiating at the same meeting, acting Livingstone District Commissioner Harriet Kawina said most communities were affected by many social and economic problems such as poverty, drug abuse, HIV and aids, GBV, air and water pollution, environmental degradation as well as human rights abuses in their different forms.
Ms Kawina said many aspects of development were affected by the presence of abusive activities in society.
"These social and economic problems impact negatively on women, children and youths' general wellbeing.
"Some of the well known impacts are failure by the affected citizens to realize their abilities, cope with normal stresses of life," she said.
Ms Kawina said Zambia was a signatory to various protocols and conventions on the rights and protection of vulnerable people such as children, the disabled, women and many other groups of people.
"These statutory instruments cannot bear fruits in the absence of concerted efforts and commitment to support Government efforts to achieve the good health for all the citizens.
"It is important therefore that prompt decisions and action plans be produced emanating from the various legislations and statutory instruments in order to address problems related to mental health and other ills in our country," she said.
Ms Kawina assured of Government's unlimited support to all its partners that endeavored to promote the achievement of good health for all the citizens.
Acting Livingstone Central Hospital medical superintendent Muzaza Ntele said metal health disorders could happen to any person.
Dr Ntele urged all members of the community to play their role in supporting mental health patients.
Mental Health Association of Zambia Livingstone Chapter chairperson Steven Mwaekwa asked the Livingstone City Council to give his association the Libuyu Skills Training Centre.
Mr Mwaekwa also asked the local authority to close all illegal bars in the Tourist Capital to mitigate underage beer drinking and prostitution.