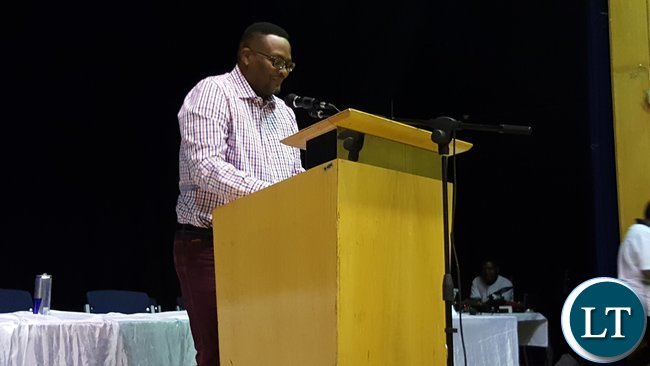 ZAMBIA'S High Commission to South Africa, Emmanuel Mwamba has called on Zambians in the diaspora to emulate nationals from other countries and unite in order to forge links that can bring about economic empowerment and social cohesion in their localities.
According to a statement released to the media by Nicky Shabolyo, the Press Secretary at the Zambian Embassy in South Africa, Mr. Mwamba has observed that there was a tendency by well-to-do Zambians to shun those who were struggling economically while others tended to be jealousy of those that seemed to be economically well-off.
"The ones who are struggling feel uncomfortable to associate with the others because they feel unwelcomed, we have those who are jealousy of other people's achievements and are segregating. This kind of living should end. We are living far from home and it's only by uniting and being there for one another that we can all achieve what lies in our potential," Mr. Mwamba said.
He was speaking when he addressed the Annual General Meeting (AGM) of the Zambia Association in South Africa (ZASA) held in Kempton Park yesterday.
Mr. Mwamba said Zambians should emulate other nationals who have united away from home and supported each other by sharing business ideas and suggestions on social life in South Africa. He said exchanging ideas in commerce could not only help individuals but also contribute to the development of Zambia as nationals would have income to invest back home.
The High Commissioner said Government has recognised that Zambians were an important arm of investment and that the Diaspora Policy which was being worked on by Government would greatly contribute to assisting Zambians channel their investment into the country.
He said nationals from such countries as those in West Africa, were making huge contributions towards their countries' gross domestic product.
Meanwhile, Mr. Mwamba has advised ZASA to restrict its role to encouraging social cohesion among Zambians and attending to social welfare matters rather than opting to veer off into handling issues bordering on immigration as these were the preserve of the Zambian Government through the High Commission.
"Let the Mission get involved and help whenever you identify issues of immigration nature. We have recognised the important role and the Mission is open and willing to work with ZASA on almost anything."
"I decided to implement an open door policy when I arrived at the Mission because I was not happy with what I was hearing before I came. We have opened our doors and any of you can see us any time you have a problem," Mr. Mwamba said.
He invited the Zambians to join in every Wednesday morning at the High Commission when some diplomatic staff, their spouses and some South Africans get together for prayers dedicated to, among other issues, Zambia, South Africa and the leadership for the two countries.
Mr. Mwamba also briefed the audience on President Edgar Lungu's State Visit in December, last year saying this culminated into a number of positive developments including the inauguration of the Joint Commission for Cooperation (JCC) between Zambia and South Africa.
He said the JCC would now make it easier for Zambia and South Africa to resolve any issues affecting their nationals.
On the Foreign Service Bill which is scheduled to be presented to Parliament soon, Mr. Mwamba said Government intended to professionalise the Foreign Service while positioning it to be able to effectively engage in economic diplomacy.
Earlier, ZASA president, Mr. Ferdinand Simaanya urged Zambians to give truthful accounts of their economic status while living is South Africa. He said his association has had problems with relatives of deceased Zambians when they travelled to collect bodies of their family members. He said there has been cases of relatives insisting "that the huge amounts of rand saved in the bank as well as the mansion owned by their late relative be handed over to them. This is disheartening because the correct situation would be that the deceased had nowhere to live but was just being kept by friends. Meanwhile, these relatives had borrowed transport money to travel from Chingola to Johannesburg."
And First Secretary for Immigration and Consular Issues, Mrs. Joyce Chimalilo took time to update the Zambians on issues pertaining to application for passports, birth certificates, visas, permits and on duration of stay in South Africa to which a Zambian was entitled.
The meeting was attended by ZASA representatives from all the branches across South Africa.