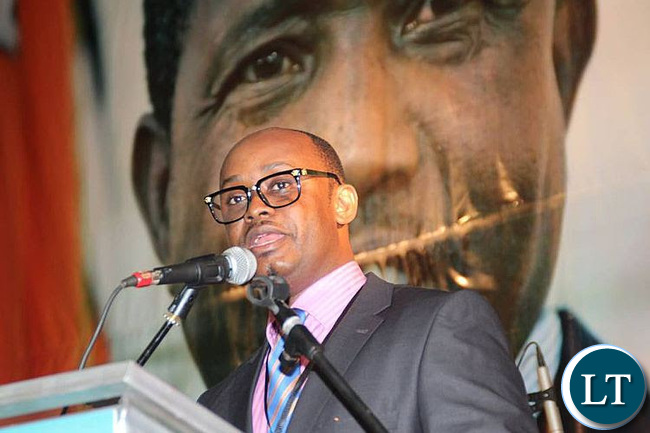 By Sunday Chilufya Chanda
The statement dated 31st January 2017, by the Law Association of Zambia (LAZ) in which it stated that the directive by Inspector General of Police Kakoma Kanganja's to bar Zambia Police officers from marrying foreigners is discriminatory and contravenes the provision of article 23 of the constitution in the Bill of rights was incorrect as it ignored crucial elements of the provision referred to. LAZ also argued that there was no such law in existence that bars Zambia Police officers from marrying Foreigners.
This is besides LAZ acknowledging the existence of Sections (3) and (5) of the Police Act which gives powers to the Inspector General of Police to come up with a standing order to guide the running of the police.
For the benefit of the general public and in order to have guided debate, let me reproduce provisions of Article 23 with particular reference to Article 23 (4) (c) and (e) which states as follows:
Article 23 (1) Subject to clauses (4), (5) and (7), no law shall make any provision that is discriminatory either of itself or in its effect.
(2) Subject to clauses (6), (7) and (8), no person shall be treated in a discriminatory manner by any person acting by virtue of any written law or in the performance of the functions of any public office or any public authority.
(3) In this Article the expression "discriminatory" mean, affording different treatment to different persons attributable, wholly or mainly to their respective descriptions by race, tribe, sex, place of origin, marital status, political opinions colour or creed whereby persons of one such description are subjected to disabilities or restrictions to which persons of another such description are not made subject or are accorded privileges or advantages which are not accorded to persons of another such description.
(4) Clause (1) shall not apply to any law so far as that law makes provision –
(c) with respect to adoption, marriage, divorce, burial, devolution of property on death or other matters of personal law;
(e) whereby persons of any such description as is mentioned in clause (3) may be subjected to any disability or restriction or may be accorded any privilege or advantage which, having regard to its nature and to special circumstances pertaining to those persons or to persons of any other such description, is reasonably justifiable in a democratic society.
From the foregoing, it is clear from the provisions of Article 23 (4) (c) and (e) that the LAZ statement "missed the mark" and thereby rendering an inaccurate position to the Inspector General of Police.
Article 23(4) (c) and (e) provides exceptions to the law against discrimination, and refers specifically to where the law makes provision with respect to among others, marriage.
Further while it may be argued as LAZ has done in their statement that the IG's directive is not law, this is again not in tandem with the definition of "law" by any law dictionary. In general all definitions of what law is agree that it includes a set of rules or directions or regulations that govern a people or a group of people.
For example, the Merriam Webster dictionary defines the 'law' as follows:
a (1) :  a binding custom or practice of a community :  a rule of conduct or action prescribed (see prescribe 1a) or formally recognized as binding or enforced by a controlling authority (2) :  the whole body of such customs, practices, or rules
So one then wonders what LAZ meant when it pronounced that the directive by the IG was not supported by law while in the same statement they themselves had indicated that the directive is pursuant to Section 3(2) of the Police Act. If there is a question LAZ must be asked is whether the directive has the force of law. It's a no brainer that since the police officers has to obey the directive, it means it has a force of law, and therefore it is law.
Lastly, it is difficult to see how LAZ concluded that the directive was not based on the law when it is clear that it had the backing of the law, in particular, Section  3(2) of Police Act) and further satisfies the constitution, in particular, Article 23 (4) (c) and (e).
[Read 35 times, 1 reads today]