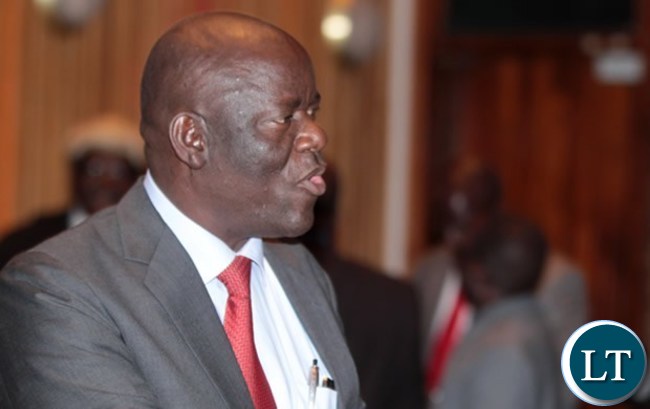 The Patriotic Front (PF) Secretary General Davies Mwila has called on the structures across the country to prioritise mobilisation as a means for the ruling party to remain relevant to the Zambians both now and in future.
Speaking on his five (5) day tour of Muchinga Province in Chinsali and Shiwang'andu respectively on 27th April 2017, Mr. Mwila called on the party to uphold the party is founding values such as discipline, hard work and unity.
The Secretary General also observed that PF structures had a duty to defend party policies in the public place and ensure they also listen to what people are saying.
"As a listening Party, that feedback mechanism is important and the party has laid down channels of bringing ideas to the party in order for us to serve the people better". Mr. Mwila reminded structures to embrace accountability to the general membership. "We view accountability as a very important duty for our political work as PF. Party structures must be accountable to the membership in order to make the party stronger," he has noted.
Mr. Mwila also reminded the Party in the Province that PF is different from other political organizations motivated by wealth.
"PF is not a rich man's club like others. We are a visionary party pro-poor party and we exist for the common man. That is why even after our competitors said we had no vision for the country, they are seeing the development in all the 10 Provinces of Zambia. Let me remind you that PF exists to transform people's lives, to make the country better than we found it in 2011 and this is the Journey of hope and hardwork we are witnessing under His Excellency President Edgar Chagwa Lungu".
The Secretary General has told the Party in Chinsali and Shiwang'andu that PF is for all Zambians and as such it has a duty to take development to all parts of the country.
He has said that PF was a party for all tribes, all regions, gender, races and does not segregate based on social economic status.
"Our core mandate is to create better lives for all our citizens, irrespective of the region, tribe, colour, gender or political affiliation. PF does not just belong to a certain group of Zambians. It is not a party for the few but for the majority. PF belongs to all Zambians and everyone must find room within the party," Mr. Mwila has observed.
Mr. Mwila who is accompanied by Members of the Central Committee Hon Prof Nkandu Luo, Mrs Dorothy Kazunga and Mrs Suzan Kawandami has re-echoed the Party's position that intra-party issues, which could have arisen out of party adoptions, are in the past and all members are called upon to reconcile with the party and with one another.
He has further called on all members to remain loyal to the Party leadership of President Lungu and play a part in building the party.
This is according to the press release to Lusaka Times  by PF  Director of media  Sunda Chanda.
[Read 87 times, 1 reads today]