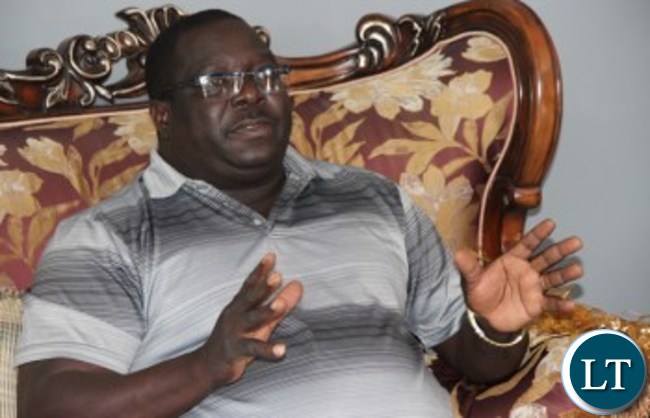 Roan Member of Parliament Chishimba Kambwili has claimed that his life is now in danger after over 25 armed police officers surrounded his house on Sunday morning in Luanshya.
Mr Kambwili said he woke up to find over 25 armed police officer and six intelligence officers outside his gate.
He revealed that the intelligence officers had been trailing him from Saturday night.
Mr Kambwili charged that the state of emergency was not called to trail and harass him.
Below is Mr Kambwili's statement posted on his Facebook page
I WILL NOT BE INTIMIDATED
I woke up this morning and found over 25 armed police officers and 6 office of the president officers right outside my gate. From last night after I arrived in Luanshya police and op have been trailing me, trailing me as far as going into Shoprite right behind me. What is this nonsense? I am not a criminal; I am a law abiding citizen who deserves to be treated fairly. This state of emergency was not called to trail and harass Chishimba Kambwili.
My home is private property and I am entitled to private life without police harassment, I now fear for my life because these police officers can easily kill or plant something at my home to incriminate me. I'd like to warn the police to immediately stop abusing their powers and focus on arresting arsonists and law breakers. Whoever is sending these police officers to harass me and my family should know that time is of the essence. Mind you I have not been in my constituency for over two months because of constantly being followed by OP officials, baring in mind that I am a constituency man and I make an effort to see my people every weekend, this harassment is becoming a burden on my ability to deliver my campaign promises. I am utterly appalled at the behaviour of these people, instead of them being out there chasing criminals they are following Chishimba Kambwili for reasons best known to themselves.
As soon as I came out of my gate the police officers began to scamper in all directions but I managed to follow one car and confronted the officers, when I asked them what crime I have committed for me to be harassed in this manner they had no answer and simply said it's not our own doing.
Whoever is behind this must know that I will not run away from my own home, I will not run away from my responsibilities because I am not a coward.