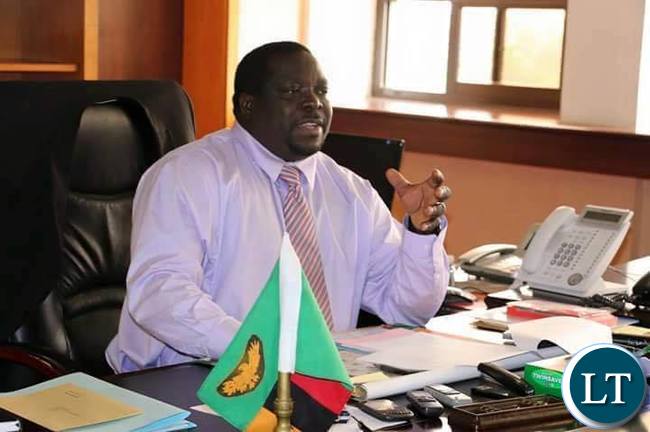 Roan Member of Parliament Chishimba Kambwili has dared the Anti-Corruption Commission to go ahead and arrest him if indeed it has completed graft investigations against him.
Mr Kambwili was reacting to a statement issued by Copperbelt Police Commissioner Charity Katanga who clarified that only one police officer was trailing Mr Kambwili because the ACC had concluded its investigations against the former cabinet Minister.
But the Roan MP asked why the Commission would need to follow his every move if indeed they have concluded investigations.
Mr Kambwili further questioned why Presidential Spokesperson Amos Chanda on Tuesday evening contradicted the police command on the Copperbelt by claiming that not even one officer was sent.
"If the magic 25 we saw were from any government institution then it would be the ACC, the reason Amos Chanda gave was that the ACC had concluded their investigations and thus are now trailing me to further conclude their investigations, when have we ever heard the ACC following a following a citizen accused of corruption?"
Mr Kambwili added, "The bigger question is why is the presidential spokesperson getting involved in a matter between myself and the police, and why does he have a completely different version of events as compared to the police command?"
He maintained that on Sunday morning, he woke up to a horde of police officers right outside his house adding that this happened in full view of three other people who were equally shocked.
"On Sunday afternoon I called the police command in Luanshya and asked them why they would deploy so many officers at my house and what would the reason be for such drastic action, the command refused and stated in no uncertain terms that they have no idea of any such operation and that not a single officer came from them," he said.
"On Monday morning Copperbelt Police Commissioner attempted to cover up the unnecessary police presence outside my house. In order to do so and whilst intending to paint me a liar or lunatic the police chief claimed only one police officer was sent. One still wonders why a police officer would be sent to spy on me before I wake up. Furthermore, how come the command in Luanshya had no idea of what was going on under their nose?"
He said, "It is quite clear that we are not running mad, the police did gather outside my house, they weren't sent by the Luanshya command, but one was sent by the police commissioner because I was about to hold a press conference which I had no idea about. The level of inconsistency is alarming, I would appreciate if the police or the ACC could either leave me alone or arrest me."
Mr Kambwili also castigated PF Lusaka Province Youth Chairman Kennedy Kamba for condemning his press statements.
"On Tuesday morning I received a warning from a junior member of the party Kamba. Warning me not to drag the PF through the mud, Kamba forgot that the police service does not belong to the PF and I did not address the PF because it was not the PF marooned outside my house, this kind of excitement and inexperience is likely to dent the image of the party because this scenario had nothing to do with the PF," he warned.