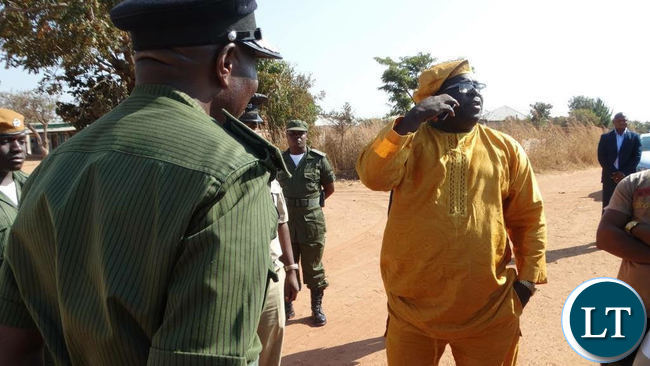 His royal Highness, Mwine Lubemba, the Paramount chief Chitimukulu says he had opted to deny Roan constituency member of parliament Chishimba Kambwili an invitation to this year's ukusefya pangw'ena in order to preserve the integrity of the traditional ceremony.
Speaking through the Bemba Royal Establishment spokesperson during an exclusive interview from the Pangw'ena palace earlier today, the mwine lubemba stated that he had officially communicated his position not to welcome Mr Kambwili to the ukusefya pangw'ena traditional ceremony to both the Northern Province Police Commissioner Richard Mweene and the provincial administration.
"We were not ready to subject our guests especially the traditional leaders from the South to his political gimmicks, frustrations, hate speech or propaganda," said the royal establishment spokesperson.
"We communicated this position to both the police commissioner and Northern provincial administration," stressed ba mwine Lubemba.
"There is no room for tribal talk during ukusefya pangw'ena. There is no room for division, propaganda, sheer political gimmicks or hate speech. We are privileged to receive about 20 guests who are traditional leaders from across the nation and we would like them to enjoy and appreciate ukusefya pangw'ena for the uniting ceremony it is and devoid of any hidden political agenda," he added.
In response, Northern province Police Commissioner Richard Mweene called on Roan members of Parliament Chishimba Kambwili and his entourage to abide by the decision of his royal Highness, Paramount chief Chitimukulu.
This year's ukusefya pangw'ena graced by His Excellency, President Edgar Chagwa Lungu attracted different business houses on the sides of the arena, thousands of people and about 20 visiting traditional leaders including senior chief Chikanta, senior chief mweemba, chief cooma, chief simwatachela, Chiefteness choongo, chief mapanza, chief mukobela, senior chief Sinazongwe, chief Mwenda from Southern province.
Chief mumena from kalumbila, chief kalunga from kabompo, chief chiyengela from Limulunga, chief chitoshi from Lunte, chief kaputa and chief Mporokoso among others were also in attendance.