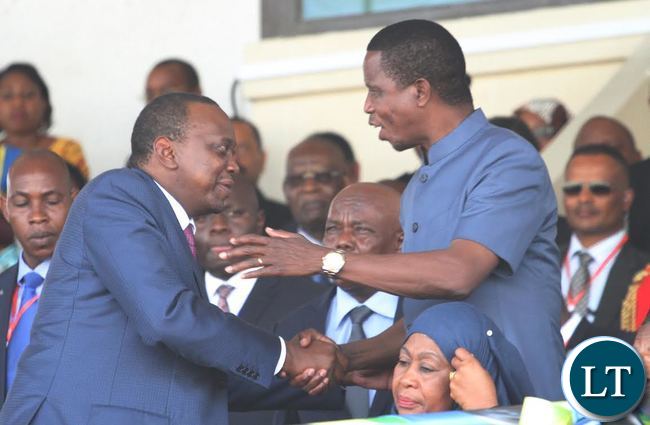 President Lungu has congratulated Kenya's President-elect Uhuru Kenyatta following his re-election for a second term, in general elections held on 8th August, 2017.
"Your Excellency and my dear Brother, I wish to extend my heartfelt congratulations on your re-election as President of the Republic of Kenya," said the President, according to a press statement released to the media this morning by his special assistant for press and public relations Amos Chanda.
The President said he is confident that during Mr Kenyatta's renewed mandate to steer the people of Kenya to higher levels of prosperity, bilateral relations between Zambia and Kenya will further be enhanced through cooperation of the two countries in areas of mutual interest.
He acknowledged that today, more than ever before, Africa, needs unity, peace and solidarity, therefore, through Mr Kenyatta 's able leadership and renowned commitment to peace, democracy and development, he is hopeful that the two countries will continue working together at bilateral and multilateral levels to help realise the continent's aspirations and dreams.
"Whilst looking forward to working with Your Excellency at both the bilateral and multilateral levels, please accept Dear Brother, the assurances of my highest consideration, best wishes and good health.
Last night, Incumbent President Uhuru Kenyatta was declared the winner of Kenya's presidential election amid allegations of voting fraud by the opposition.
According to official figures released by the country's electoral commission on Friday, the incumbent secured 54.27 percent of the ballots cast, while his rival, Raila Odinga, won 44.74 percent.
"It's been a long wait for the last couple of days. But we were determined that we would be patient and wait for the final result, as indeed have now been declared," Kenyatta said following the announcement.
"We shall continue with the work that we have started…Kenyans want us to succeed."
More than 15 million people cast their ballots, representing 78 percent of the registered voters.
"Countries around the world have been watching us closely," Wafula Chebukati, Kenya Electoral Commission chairman, declared.
Chebukati said that he was "confident" that the manner he election was conducted was "fair and credible".
The announcement of the results was delayed for hours after election officials had said they needed time to review documents from some polling districts.
Shortly before the results were announced, opposition members said they would reject it.
"We are not going to be party to it. Our issues have not been addressed. One can conclude they [electoral commission] are not keen on taking our concerns seriously," Musalia Mudavadi, a senior official of the National Super Alliance (NASA) and former Kenyan vice president, said.