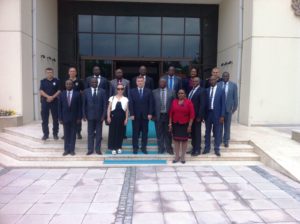 Zambian Police officers in Turkey for a training
An eight-member delegation of officers from the Zambia Police Service is in Turkey for a five-day Training of Trainers (TOT) capacity-building course under the auspices of the Turkish Co-operation and Co-ordination Agency (TIKA).
The delegation led by Zambia Police Service commissioner for administration Standwell Lungu, will undergo the training to be conducted by the Turkish National Police.
Speaking during the official opening of the programme in Ankara  Monday, Mr Lungu said the training is important because it will help the Zambia Police Service enhance its ability in various areas of modern law enforcement.
"This course is very important for the Zambia Police Service and the nation as a whole. The course participants have been drawn from various important units of the Zambia Police Service.," Mr Lungu said.
He also said the course will have a multiplier effect because the officers will be equipped with requisite law enforcement skills to train their colleagues in the Zambia Police Service.
Mr Lungu thanked TIKA for supporting the training programme and the Turkish National Police for the warm reception accorded to his delegation.
Defence Attaché at the Embassy of the Republic of Zambia in Turkey, Brigadier General Simeon Manyando also attended the official opening of the training programme.
And TIKA Researcher Nermin Ba?temur expressed happiness that  Turkey and Zambia have continued to enjoy warm and cordial bilateral relations and that TIKA hopes to further grow the relations
Ms Ba?temur said TIKA has been supporting projects in the fields of health, tourism, and education in Zambia.
This is according to the press statement issued by the First Secretary for Press Jerry Munthali at the Zambian Embassy in, Ankara, Turkey.
Issued by:
Jerry Munthali
First Secretary (Press)
EMBASSY OF THE REPUBLIC OF ZAMBIA, ANKARA, TURKEY